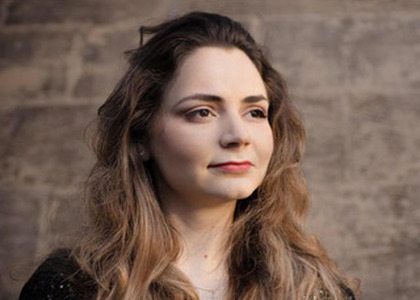 Interview with pianist Daria Tudor (I)
Monday, 28 November 2022 , ora 9.59

On November 30th, in Brussels, a musical event dedicated to the National Day of Romania will take place. The recital carries out under "Heirs of the musical Romania" project's emblem conducted by Radio România Muzical and its protagonistsare three of the most famous Romanian young artists: pianist Daria Tudor,violinist Ioana Goicea, and cello player Andrei Ioniță. At the end of the event there will also take place the release of a CD with fully Beethoven repertoire, produced by Radio Publishing House. The recital from Brussels will also be played at the Radio Hall from Bucharest on December 18th. Pianist Daria Tudor gives us details about the two events and about her future plans regarding music.

Daria Tudor, you willhold alongside Ioana Goicea and Andrei Ioniță a concert in which, in the schedule,there are included two music sheets signed by George Enescu. What emotions do you get when you play, right on Romania's Day, a concert with (also) Romanian music on an international stage?
It is always for me, indeed, a joy to play Enescu. But, this time, to play Enescu alongside Andrei and Ioana and to play two of the dearest works to me, from Enescu's creation, is one of the biggest joys. Now I hope that the public will feel the same joyfulness and I also hope that these things that give us such pleasure will be share with Brussels too.

Do you have a special attachment towards Romanian composers, or is there something specific you look for in each work you choose to approach, no matter the composer?
I don't think I've ever favored a composer just based on their nationality;however, I have always looked in to a composer's dialect for something tojust make sense to me. As I discovered the other composers, I discovered Enescu too. His musical language, especially in his furthest creation period, is very close to me and it pleases me that Sonata for Cello and Sonata op 26,nr.2appear in my recital schedule.

On the CD that you will release it can also be found the Trio nr.1 by Ludwig van Beethoven, which you will interpret in the Bucharest and Brussels concerts too. Could you give us some details about the work process of recording it?
It was a very great joy for us and I think that we all started the year very well; the recording of it happened in the first week of January 2022. And I think we couldn't have started better. The Trio appears next to the two Enescu works in the concert's schedule because alongside with the concert, the CD will also be released, but at the same time, Beethoven was the composer who brought us together with the Triple concert, so we could not have kept going this path without Beethoven.
It was interesting, it was tiring, it was motivational and it was, probably, the best beginning of any year for me.

Do you have any other plans that include Romanian music for the near future?
Yes. I wouldn't want to spill too much, but one of the reasons for which these sonatas appear in the Brussels and Bucharest schedules I hope will materialize in 2023. So, yes, in all our plans, there is Romanian music.

Translated by Bogdan-Nicolae Tănăsescu,
University of Bucharest, Faculty of Foreign Languages and Literatures, MTTLC, year I
Corrected by Silvia Petrescu