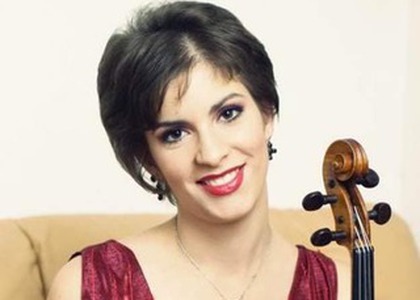 Interview with violinist Ioana Cristina Goicea (I)
Monday, 28 November 2022 , ora 10.24

On November 30th, violinist IoanaGoicea together with cellist Andrei Ioniță and pianist Daria Tudor will perform an extraordinary chamber concert in Brussels, on the occasion of Romania's National Day. This event is organized by the Romanian Cultural Institute from Brussels, at the initiative of Radio România Muzical. We learn more details from the young violinist, in a dialogue with IoanaȚintea.

You will give a recital in Brussels, in the context of the celebration of Romania's National Day. Does this event have a special meaning for you, considering that the program also includes two works signed by George Enescu?
Yes, of course it has a great significance and precisely for this reason I chose this very special program that includes works by George Enescu. It will be a wonderful program and I am very happy to collaborate with my dear colleagues, to make an extraordinary concert and to represent Romania abroad.

During the concert in Brussels, you will also release an album by Casa Radio Publishing House, with works by Ludwig van Beethoven recorded at the beginning of the year in the Radio România studios. I would like you to give us some details about this CD, from your perspective!
It was a special collaboration. This really happened close to the New Year, last year, when all three of us met in Bucharest, we were in different places, and that's why it was something special for us to work together on this project in Bucharest, at Radio, on the stage where I, at least, as a small child, was always present and where my mother worked as a soloist for a very long time... So for me, this is exciting and I was very happy to be able to share this joy with my colleagues Andrei and Daria.

Will there be other special recordings in the Radio România studios?
Of course. Something is being planned, but I think it's better to wait a little longer, let it be an even bigger surprise.

How do you see the importance of the "Musical Heirs of Romania" project, initiated by Radio România Muzical?
Something extremely important. All three of us left Romania for many years, but we actually did not leave Romania... even if we studied in other countries, we are always in Romania, we are connected to Romania, we sing in Romania and we try to bring our country fame all over the world. I think that is the most important thing. Everyone knows about Romanian musicians. We had and have an extraordinary school and everyone knows that Romanian musicians are very good, and we want to reinforce this statement everywhere from now on.

This concert is also an opportunity to return to Brussels after becoming, in May 2019, the laureate of one of the most difficult competitions in the world, "Queen Elizabeth". What has this experience meant for your career?
All the contests were important in my career, each in their own way and at the time they happened. They were all steps. Of course, "Queen Elizabeth", in fact, is the hardest competition in this world and the most important, and for me it was even the last competition. I did not present myself at any other competitions after that. It was very important. I already had a career before, I had a lot of concerts, but of course this contest helped me. It's always a business card - not only this competition, but especially the big ones - and for example, in any kind of position where people apply, any kind of university professorship, it's very important to have these competitions on your record. The pandemic was also present, but in 2020, I obtained the position of university professor at the University of Music in Vienna, at the age of 27 at the time. It was an extraordinary thing that happened. Of course, all things happen at the right time, but these contests in general have helped me a lot so far. I think they are useful and necessary.
Interview by Ioana Țintea
Translated by Elena Patricia Măroiu,
University of Bucharest, Faculty of Foreign Languages and Literatures, MTTLC, year II
Corrected by Silvia Petrescu