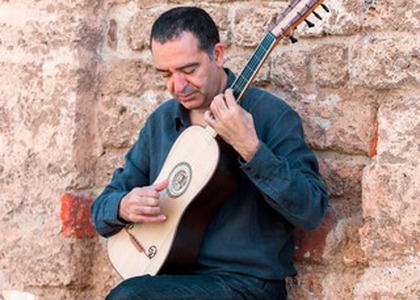 Interview with guitarist Xavier Diaz Latorre
Tuesday, 29 November 2022 , ora 14.33

The guitarist will give a concert on Saturday, November 26th, as part of the Bucharest Early Music Festival. The event will take place in the Royal Dining Room of the National Museum of Art of Romania, starting from 7 p.m.

Mr. Xavier Diaz Latorre, you are returning to Romania to give a concert entitled "Fernando Sor, un homme de societe". Why have you chosen Fernando Sor's works for this recital?
Fernando Sor is one of the most important Catalan musical personalities, also being a universal composer. All guitarists study his music, as he was well-known in the period in which he lived too. He composed a lot of operas, ballets and numerous pieces for guitar. He became famous all over the continent, in Paris, London, Berlin and even in Moscow. Because of the war and the political situation in his country, after Napoleon invaded Spain, Sor was forced to leave his homeland. For various reasons, he never returned, but he traveled throughout Europe and became very famous. I recorded a CD with the pieces that I will perform in the recital on November 26th, at the National Museum of Art of Romania. This album is not yet on the market, but I hope it will be completed before Christmas. So this is why I chose Sor's music for this recital.

How would you describe Fernando Sor's music and what is your connection to it?
Fernando Sor's music is very important for a guitarist, just like the creations of Chopin, Liszt or Rachmaninoff are for pianists. He is, therefore, a representative composer of the music created for guitar, his contribution being important because he invented a new way of composing for the guitar. This instrument has a long history, dating back to the 16th century or even earlier, during which time guitar construction evolved in various ways. The instrument played by Sor was similar to the classical guitar that we play today. It is an instrument that does not have the broad technical capabilities of the piano; it cannot play several notes simultaneously, it does not offer the possibility to perform very complex music. Sor was a composer who knew the instrument very well and who discovered new ways of making the most out of it. He received his profound musical education at the monastery of Monserrat, where he learned composition from important teachers. They helped him overcome the strictly technical approach to the instrument and reach a unique musicality. He knew in advance exactly what he wanted to compose for guitar, and therefore needed to invent a new way of writing for this instrument. And he did it. He created a new compositional style that grants the possibility of hearing in the sounds of the guitar the sonority of the classical orchestra, even given the limited technical possibilities of the instrument.

How do you think the Romanian public will receive this repertoire?
From the experience of my other appearances in Romania, I know that the Romanian public is very passionate and a good listener. I am sure that they will love this music because it is not one that we hear very often, and when we have the opportunity to listen to it, it is often played on the classic guitar. But what will I do? I will perform Sor's music on an original instrument that dates back to the 16th century. Unlike the classical guitar, this one does not have nylon strings, but strings made of animal intestines, usually sheep. These were the ones used in the 16th century.
So I think that this recital will be a special one both because of the music and the instrument. I believe that this is a great opportunity for the Romanian public to discover a kind of music that some are familiar with while others are not. It is certainly a very interesting music played on an original instrument. Even only for this fact, I think it is important for them to come and discover this music.
Ana Sireteanu
Translated by Ecaterina Bucovanu,
University of Bucharest, Faculty of Foreign Languages and Literatures, MTTLC, year II
Corrected by Silvia Petrescu