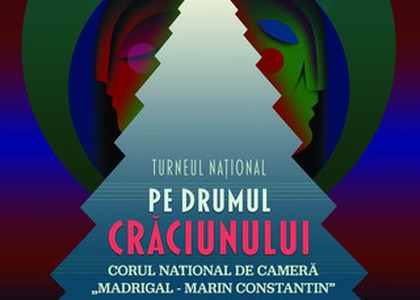 Interview with Emil Pantelimon, manager of the Madrigal Chorus
Wednesday, 7 December 2022 , ora 11.30

I would like to start by talking about the Madrigal - House of Carols project. You called it "a project for the historical retrieval of Christmas emotion from the six past decades". What is the reasoning behind such depiction?
At most times and for most Romanian households, the Madrigal Chorus is synonymous with Christmas, along with this carol holiday. What could be more beautiful than the energy and the spirit that the Madrigal Chorus has been spreading for almost 60 years? As those times' critics would say, "it is the spirit that itmanages to convey through song and snowflakes".
And so forth, the history of carols in Romania is strongly tied to Madrigal and Radio Hall, since, in 1966, the Madrigal Chorus had their first concert - during difficult times, when any reference to Christianity orthe birth of Christ was forbidden. Madrigal had the courage to break this barrier through Marin Constantin, amidst a great deal of risk, sacrifice and suffering that followed, but also alongside a great deal of success… success that meant permission to sing carols afterwards. And, in 1966, at the end of November, such concert took place, all tickets sold-out in two days, as the Madrigals of those times would say, with queues that spread to Știrbei Boulevard, with "broken windows", and with a second concert right after the first performance, and, especially, with the prohibition to sing carols afterwards, enforced by the regime for a while.
And so, Madrigal needs to retrieve such information and put it forward for the world to see it nowadays, in a unique shape, since only through the memory of these facts, through their reminiscence, through putting them in the spotlight, could we avoid repeating this terrible period that destroyed the Romanian nation culturally.

The name that has been put forward by the Madrigal Chorus for the tour is "En route to Christmas". I would like it if you could talk about this performance as a stage director. How did it come into being?
In the last two years, the Madrigal Chorus has shifted from concerts, used during Christmas and not only, to other alternatives for performances, where art syncretism represents the detail that heightens and embellishes the energy and spirit we wish to spread towards the general public. That is why, on the occasion of Christmas, through an expansive and generous team, we have created a performance with a unique repertoire, unexpected for a great deal of the audience that sees it for the first time (last year the premier was in December) - unexpected for the decor ideas, the lights (and this is why I am thankful for Vladimir Turturica and ȘtefanDragu's participation, this show's light design, with texts handpicked by Mădălin Guruianu and with the unique interpretation of the actors, Ofelia Popii and Marius Trudeanu from Sibiu). Although, mostly unexpected as a result of the sound, spirit and energy that the Madrigal delivers to Christmas, under the magic wand of Anna Ungureanu.
It is the story, unfortunately, of last year's occurrences, depicting a war, a premonitory war that settles in our performance through a triptych consisting of a Ukrainian play, a Romanian psalm and a Russian song.
It is a great joy that the Madrigal tour, "En route to Christmas", has been sold-out for a couple of weeks. We begin performing this weekend at the Romanian Opera in Cluj, after which you can find us in Tg. Mureș. Timișoara, Craiova, Iași, Suceava, and, towards the finale, we will be meeting our Bucharest audience - without any interruption, for 59 years - at the National Opera, on 19 and 20 of December.
A sold-out tour, where you can encounter many children choruses, Cantus Mundi, from all over the country. In every city that we will be performing in, there will be children choruses that will be joining us from those areas. There are actors and singers joining us, an experience that we gladly invite you to enjoy in all of its forms, in the auditorium, but also online, where there will be brief moments broadcasted to the general public throughout this December.
Interview by Petre Fugaciu
Translated by Adelina-Maria Mănăilescu,
University of Bucharest, Faculty of Foreign Languages and Literatures, MTTLC, year I
Corrected by Silvia Petrescu