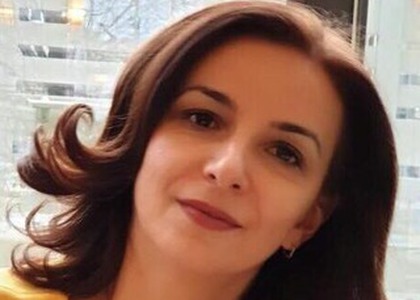 Interview with Gabriela Iordache, coordinator of the "Young Talents" program
Tuesday, 13 December 2022 , ora 14.22

Today, December 12th, from 6:30 p.m., at "Ion Dacian" Operetta and Musical Theater, the "Perpetuum" edition of the "Young Talents" gala is taking place. More details are provided by Gabriela Iordache, the coordinator of the "Young Talents" program for over 11 years, in an interview conducted by Ioana Țintea.

Gabriela Iordache, on December 12th, the Royal Margareta Foundation of Romania is organizing the 14th edition of the Young Talents gala. The gala has a specific theme every year. This time the theme is Perpetuum. What is the motivation behind her choice?
We are waiting for you at the "Ion Dacian" Operetta and Musical Theater on December 12th for the "Young Talents" gala. The Perpetuum Concert is a modern approach proposed by Zoli Toth. Joining the talented young musicians, this year, Zoli Toth, in this "Perpetuum" concept, which is based on famous works from the repertoire of composers Mozart, Mussorgsky, Rachmaninoff, Bizet and Verdi, works that have inspired Eric in current times Carmen, Gary Brooker, so you will be able to listen to an original musical program, in a modern approach and in the orchestral arrangement of Mladen Spasinovic.

Who are the musicians who will honor this year's "Young Talents" gala?
As I mentioned, it is the musician Zoli Toth, but the conductor Constantin Grigore also joins us, the two former scholarship recipients of the "Young Talents" program, the tenor George Vîrban and the mezzo-soprano Miruna Iancu, join as guests, together with our young scholarship recipients, beneficiaries of of the Young Talents program in 2022. And here I would mention only a few names: cellist Izabela Ghergu, Cornelius Zirbo, guitarist Ovidiu Pintilie, Ioan Bănescu, pianist Daniel Dumitrașcu. I invite you to come to the gala to hear them all. So, you will see a number of very talented young people alongside already established young musicians, reminding the ones above.

What is the method of public access?
The public can participate in this gala by signing up on our page dedicated to the event against a small donation, thus becoming a supporter of the program, but I invite you to access the event page and our Facebook page, Young Talents and the FRMR . We still have places for those who want to attend the gala.
Interview by Ioana Țintea
Translated by Cosmin-Ionuț Petriea,
University of Bucharest, Faculty of Foreign Languages and Literatures, MTTLC, year I
Corrected by Silvia Petrescu