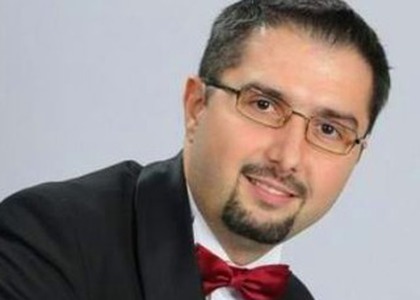 Interview with Ciprian Țuțu, conductor of the Academic Radio Choir
Friday, 16 December 2022 , ora 14.07

The Academic Radio Choir will perform its traditional Christmas Concert on Thursday December 15th.

Mr. CiprianȚuțu, how is the Christmas concert program shaping up?
This year we have a special moment prepared for the Christmas concert.First of all, we are happy to return with a program dedicated to the holidays after two years of pandemic, during which neither we nor our listeners could enjoy Christmas carols and songs.So for this concert we have shaped the repertoire in three directions. The first is a selection from the great vocal symphonic repertoire.We have some pieces from Handel's Messiah Oratorio and Bach's Christmas Oratorio, then from the rich literature of the genre, let's say of Romanian choral music, we have selected various titles. We also have works in premiere. Here I can mention the two works arranged by IoanDobrinescu for this occasion. Also, the first madrigal with a winter theme in the history of Romanian music - Ziuaninge by Gheorghe Dima, composer from Brasov.We have also included Tudor Jarda in our repertoire with La casa di peste drum, to honour Tudor Jarda's centenary, which we celebrate this year.And a third direction of this program aims some titles from the international repertoire of Christmas songs, and here I can mention Deck the hall, Silent night or Jingle bells.

What can you tell us about the vocalists?
This time, we don't have a very consistent line-up of vocalists, but there are some special vocalists. We have the violist Elena Postelnicu, but the most exciting moment, I think, will be the piece written by IoanDobrinescu - Ninge, ninge - a work to which we have invited as vocalists the father and son, Florian and Cristian Paraschiv.With this moment we also want to bring a tribute and a thank you for over 40 years spent by Florian Paraschiv as a member of this ensemble, and this solo moment to be a farewell full of emotion and warmth, to have both the support of colleagues and the listening public.

How do you think the public will receive this repertoire?
I am convinced that, as it happens every time, especially since there have been two years in which Christmas concerts could be watched as recordings or online, I believe that people are waiting breathlessly to listen to and enjoy these songs again, to get ready for the holidays, to be filled with the excitement of the holidays, of the messages related to the birth of our Savior, listening to carols live in the concert hall. I am sure that this event will be very well received and I hope that the audience will be very numerous.

What's next on the choir's agenda for the first months of next year?
In the second part of the season we offer the audience a series of vocal symphonic titles, such as the concert opera Cosi fan tutte, and during Easter we hope to perform Verdi's Requiem. We are also preparing a concert of opera choruses under the baton of Maestro Crescenzi.We want to participate in each edition of the International Week of New Music with a new title of late 20th or 21st century music, but we are also considering two projects in the acappellagenre, one of which is a film music concert in the spring, about which we will reveal more details at the right time. Last but not least, I hope to succeed in completing the project that I have been working on since the summer of this year, when I spoke with Maestro Groza from Cluj; it is a collaboration in an acapella program at the end of the season. I sincerely hope that this project will succeed.
Interview by Ana Sireteanu
Translated by >b>Andreea Zofotă,
University of Bucharest, Faculty of Foreign Languages and Literatures, MTTLC, year II
Corrected by Silvia Petrescu