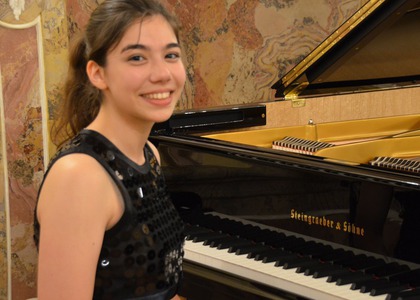 Interview with pianist Kira Frolu (I)
Thursday, 12 January 2023 , ora 13.40

Pianist Kira Frolu is the winner of the 2022 "Heirs of Musical Romania" Scholarship. Having studied in Bucharest and London, the 22-year-old pianist is one of today's most promising talents.Part of thereceived scholarship is the national tour organized by Radio Romania Muzical for Kira Frolu: three recitals taking place on January 14th in Brașov (Banca de Cultura Apollonia, 18.00), January 15th at the Radio Hall in Bucharest and January 26th at the Philharmonic in Timișoara (19.00).

I'd like to begin by talking about this title "Something borrowed". What is the meaning behind it?
I was inspired by wedding traditions, where something borrowed, something new and something blue are usually worn, and I liked this idea, especially since we're also starting the New Year. Let's get into the New Year with a bang and maybe have a little superstition for good luck! The programme is made up of pieces inspired or - to use the expression from before - all the pieces borrow a musical theme or idea either from other pieces, or are inspired by other composers. Mozart's Fantasia in C minor was written by Mozart at a time when he was becoming familiar with the music of Johann Sebastian Bach. The beginning of the fantasia refers to the idea of Bach's Musical Offering, a piece that focuses on the art of improvisation. And Mozart does the same thing. It's a rather strange piece in my opinion, split in several episodes, with a great feel of improvisation. The character of the play changes with each episode, but it too is very unpredictable and there are many theatrical breaks. Of course they have to be interpreted differently, and at the same time the play requires many completely opposite feelings, from happiness and something very fragile, to very intense and sudden feelings of pathos, we can say. It's definitely a challenge, because it is also a piece of classical music, so the way it's written is quite minimalist, the texture is not always very rich, and then the sound produced and the phrasing are very important in conveying these ideas.

Let's now talk about the 7 Preludes by Tudor Dumitrescu.
I didn't know much about them. Tudor Dumitrescu is a composer with whom I've been familiar since an early age, because the "Dinu Lipatti" High School of Music, where I studied for many years, holds a competition dedicated to this composer. He was also a composer who, unfortunately, died very young, so we don't have many works left by him, but we know from several sources and some recordings he even did on the radio, that he was a very talented and capable pianist. I was very curious to discover the music he wrote, because I grew up with his name around. I was pleasantly surprised to discover some very original music that is hardly ever played. It's not an easily approachable piece, and when you open the sheet music it can seem quite scary, but once you look through it a bit, and I think even with the appropiate age that I probably have now, the same one that the composer had when he wrote it, this gave me a different perception of them. I wanted to bring these pieces to the public in Bucharest who, surely, either has never listened to these songs before or, otherwise, this has occurred very rarely.
They fit the theme of the concert in that they are obviously inspired by Skriabin's music. All the rhythms, the ever-changing harmonies and the form of the prelude are certainly inspired by Skriabin, who in turn was inspired by Chopin, the composer who follows in the recital programme. I chose these 4 mazurkas, because I find them a very interesting kind of music. They are, of course, inspired by the Polish folk dance, the mazurka. Chopin was very famous for his private concerts where he could improvise, he could bring some shorter pieces like the mazurkas.
I thought it would be interesting to see how they develop and, at the same time, how they are perceived by the public, given that they are short dances that change rhythm and accent. Very often it's quite hard to follow rhythmically, speaking of challenges.

Speaking of rhythmic challenges, you'll end all three recitals with Igor Stravinsky's Petrushka.
When I first listened to Petrushka, it was love at first sight. It's such a vibrant piece, there's so much going on, it's an almost permanent state of celebration. The first movement is a Russian Dance and the last movement is about a carnival. We follow the love story, with the ups and downs, between Petrushka and a ballerina, a story with an unhappy ending. I've been drawn to this piece ever since I heard it. It's also a challenge not only from a technical point of view, because it's a difficult piece, but also through the fact that you, as a pianist, have to evoke the idea that it's an orchestral piece.
Interview by Petre Fugaciu
Translated by Andreea Zofotă,
University of Bucharest, Faculty of Foreign Languages and Literatures, MTTLC, year II
Corrected by Silvia Petrescu