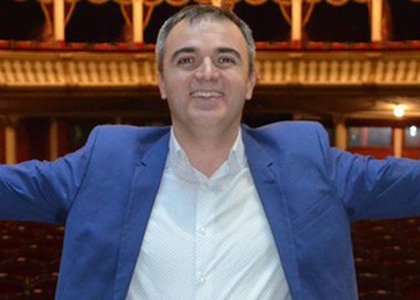 Interview with conductor Adrian Morar
Monday, 16 January 2023 , ora 10.42

On Friday, January 13th, starting at 7 p.m., the National Radio Orchestra will hold the first concert of 2023, an event that will bring Adrian Morar to the conductor's position.

Mr. Adrian Morar, the concert you will give on Friday, together with the National Radio Orchestra, is dedicated to the Day of National Culture. How is the chosen repertoire associated with the meaning of the moment?
First of all, we used not only Romanian songs in this program. We promoted a new work, the "Cinema" Suite, composed by Theodor Rogalski, and not performed until now. It is true that this composition is due to his great-grandson, Alexandru Rogalski, and Elenescu's work was presented in 1938 in Belgrade, but awarded later; a special concert work, with Gabriel Croitoru as soloist. And of course that we continued in a universal repertory, a repertorywhich would put us in comparison, show us the universal creation. And then I used Symphony No. 3 by Brahms.

The soloist of the evening will be the violinist Gabriel Croitoru. What are your thoughts on this collaboration?
I have only thoughts of energy, especially since it is the work closest to the Romanian spirit and folklore. This is very stylish, but with Romanian themes. I have always collaborated with Gabriel with great pleasure and energy.

Translated by Beatrice Porumb,
University of Bucharest, Faculty of Foreign Languages and Literatures, MTTLC, year II
Corrected by Silvia Petrescu