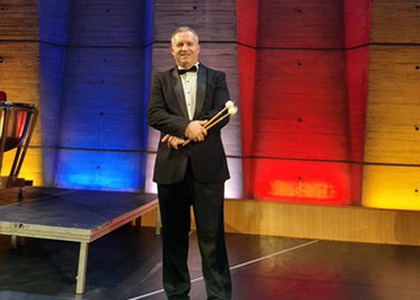 Interview with the percurssionist Alexandru Rogalski
Monday, 16 January 2023 , ora 10.45

Friday, 13th of January, the National Radio Orchestra, conducted by Adrian Morar, will sustain its first concert of this year, event dedicated to the National Day of Culture. In this program is included, among others, the " Cinema" Symphonic suite by Theodor Rogalski, under the arrangement and orchestration of Alexandru Rogalski, which will be presented as a first adution on the stage of the Radio Hall.

Mr. Alexandru Rogalski, which is the story behind this work, the Symphonic suite "Cinema", composed by your great-grandfather, Theodor Rogalski, which we will be albe to hear tomorrow in a first audition at the Radio Hall?
It is a beautiful story with a happy ending, let's hope, because it starts, actually, many years ago, when he wrote some fragments for a documentary movie and a artistic one "Life defeats" and those parts remained somewhere, well kept, therefore not many could find them. I managed to possess them, I could sense their potential and this way I arranged them in a own way, which materialised in a soundscape of an imaginary movie. This musical fragments were written between 1949 and 1951, exactly after the period in which my great-grandfather was at his best notority, bearing in mind the "Three Romanian dances", composed in 1950. Given this hidden richness, I was able to shed light on it and compose this suite I named "Cinema", because it is a wonderful music, for a current film. You have the impression that when you listen to you, it is written not a long time ago, even though there have been so many years since then. This is the reason why I am so proud that the audience, even the specialized one, that is unaware of this music, has now the opportunity to discover Theodor Rogalski in the position of the composer for film music.

I know that today you attended the rehearsal of the Radio National Orchestra. How was the ecounter with the musicians and with the conductor Adrian Morar?
It is an honor and joy to be with the Radio National Orchestra and maestro Adrian Morar, who was extremely responsive when he heard about my project. I am also honored and happy along with the Radion National Orchestra, because many are colleagues, friends of mine, some even since school. I in turn am a tympanum players in the orchestra of the National Opera from Bucharest, so we know each other very well. Theodor Rogalski would be very delighted too that the institution to which he dedicated the biggest part of his life and effort, brings back to life his gorgeus music.

How do you think the public will respond to this work?
I am sure that the audience will be excited and will appreciate this music that is, at the same time, classical and modern. Fur sure, I have the hope that this work is going to be brought up in the future too.

When came into being this idea to realise this arrangement and orchestration of the works of your great-grandfather, Theodor Rogalski?
I have to admitt that it started a few yeard before the pandemic, but it was materialized during the pandemic, having more free time on hand. Initially, I started by editing only the copies from the manuscript. Step by step, when I noticed how I could discoverd such beautiful moments on and on, I finally put togheter this project and I could not possibly have another name rather than "Cinema". After that, since I studied that much, editing the scores, his amazing tehnique of orchestration, I was brave enough and this is how I approached two piano miniatures and I was even braver to introduce them along with the music he composed and wrote.

Do you plan other arrangements and orchestrations of you geart-grandfather's works?
Since, I took courage withe the "Cinema" Suite, I found onother splendid work, written for two pianos and it objectified in " The rhapsody on fiddlers theme", it is original for two pianos and I have completed the orchestration last years. It was performed, in premiere, in Iași, with the Philharmonic "Moldova" Iași and I have the hope it will be presented in Bucharest too.
Ioana Țintea
Translated by Andreea-Cristiana Petrescu,
University of Bucharest, Faculty of Foreign Languages and Literatures, MTTLC, year I
Corrected by Silvia Petrescu