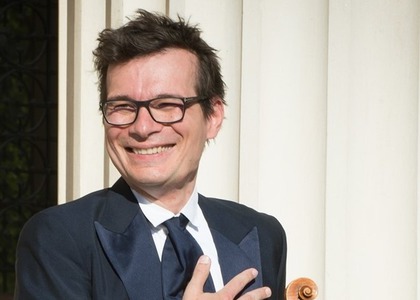 Interview with violinist Alexandru Tomescu
Wednesday, 25 January 2023 , ora 10.37

The Wind, Water, Earth concert held on Thursday, the 19th of January, 2023, at the Organ Hall in Chișinău is part of a series of concerts celebrating the National Culture Day. It's the first concert of the third tour with the same name held by Alexandru Tomescu, Sînziana Mircea and Ștefan Cazacu.

On the 19th of January you will be in Chișinău, performing in the Wind, Water, Earth concert. It is part of the third tour with the same name that you hold together with the pianist Sînziana Mircea and the cellist Ștefan Cazacu. What made you consider a third edition?
It's a really beautiful show. An extremely romantic and emotional show and, to be honest, the reaction of the public, their incredible enthusiasm, determined us to give the project this international dimension as well. The concert in Chișinăuis also related to the National Culture Day. It comes at the right time for us all who love culture, art and finer things, and that is the beginning of the year. We are all aware of what's happening in Ukraine, this war that keeps on going and I believe that now, more than ever, we need this kind of spiritual dimension of our existence.

As you were saying, it will be a series of international concerts, you mentioned it in a press release. Could you tell us about the upcoming events that are also part of this tour?
Right now we have a few more concerts planned. I will be able to tell you as soon as I receive a confirmation for all of them.

We are talking about works written by Dan Popescu, combined on a CD that will be released with this occasion. How would you describe these compositions?
I met Dan Popescu several years ago, when I first performed one of his works, a piece inspired by the pandemic, by the sufferings of those who lost a dear one and by the loneliness we all endured, a piece that I performed together with the bandoneonist Omar Massa, after which we both realized that we could do much more together. This first meeting convinced Dan Popescu to compose more pieces for violin and piano, for violin, for cello and piano, and that's how this album first came to be, an album recorded in partnership with Casa Radio Publishing House, Wind, Water, Earth. It brings together all of the pieces we perform and the first edition of the tour. I think that at first the audience was reluctant to listen to a recital made up exclusively of works composed by a contemporary composer and they expected some sort of experiment. The moment they discovered the romanticism of Dan Popescu's music, everyone was simply fascinated and the second edition simply came as a request from all the music lovers in the cities we hadn't had the chance to visit.

Finally, I would like to ask you to tell us a little more about the collaboration with Sînziana Mircea and Ștefan Cazacu.
I have already collaborated with the pianist Sînziana Mircea for many concerts, whether we are talking about previous editions of the Stradivarius tour or those West meets East tours, together with the musicians from India, not to mention other recitals and competitive projects that wecarried out together.So she is an outstanding artist with whom I feel at ease and it is always a pleasure to see her on stage, always full of energy and enthusiasm.I have known the cellist Ștefan Cazacu since he was very young, and I am very glad that he joined us for this project. He is a remarkable artist with a very special tenderness to him and I think that the three of us together manage to bring to life this music that is so expressive and so romantic.
Interview by Alexandra Scumpu
Translated by Cristina-Bianca Ion,
University of Bucharest, Faculty of Foreign Languages and Literatures, MTTLC, year II
Corrected by Silvia Petrescu