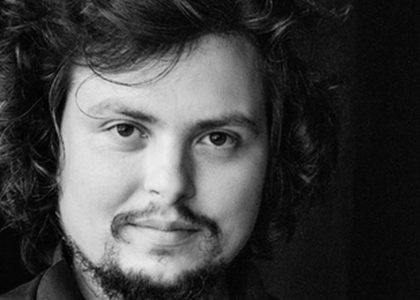 Interview with the violinist Răsvan Dumitru
Wednesday, 25 January 2023 , ora 10.44

On Friday, January 20th, pianist Kira Frolu, winner of the 2022 edition of the Heirs of Musical Romania scholarship, will perform a concert with the Cluj-Napoca Philharmonic Orchestra, as part of the "Heirs of Musical Romania" project. In 2020, the young pianist was a finalist in the competition for the Heirs of Musical Romania scholarship, which gave her the opportunity to perform with the Radio Chamber Orchestra in March 2022 and the Arcadia Quartet, in October 2022. The violinist Răsvan Dumitru, a member of the Arcadia Quartet, tells us about the pianist Kira Frolu and also about the project Heirs of Musical Romania, initiated by Radio România Muzical.

Răsvan Dumitru, first I would like to ask you to tell us about your involvement in the Heirs of Musical Romania project.
I received the invitation from Mrs. Cristina Comandașu, for which I am grateful. I feel honored to be part of this jury. I actually also represent the Arcadia Quartet and the Transilvania State Philharmonic.

How do you see the importance of this project in the cultural space in Romania?
It is an event that brings a lot of opportunities to young people who are in training, but especially to young people who are actually looking for performance, because it comes with more opportunities to go on stage for them and this prize which is quite generous, which can obviously help them fulfill certain wants or needs, an instrument, strings or attending classes.

In October of last year, the Arcadia Quartet gave a recital together with the pianist Kira Frolu, winner of the 2022 edition of the Heirs of Musical Romania scholarship. How do you remember the collaboration with the young performer?
I obviously discovered Kira Frolu during this competition for the scholarship and it was a great joy for me to be able to sing together, because she is an artist already, with a very well-defined personality. We got along great and we actually want to continue working together for other events in the future.

You have been part of the jury for the Heirs of Romania Musical scholarship since the first edition in 2020. How do you assess the level of the participating young performers?
It is a high level, and that may also be because it is actually also open to young Romanians, who are on one hand studying abroad. Here, through this, somehow, it also enriches us at home, because they come and perform certain concerts and somehow bring part of what they learn to us and somehow make the level rise here in the country and more.

What advice would you give to those who want to apply for this year's Heirs of Musical Romania scholarship?
To do it with all the confidence. It is, as I said earlier, a great opportunity to get on stage, but it can also help them financially because Rotary Club Pipera comes with a pretty generous prize.
Interview by Ioana Țintea
Translated by Georgiana-Carmen Rădulescu,
University of Bucharest, Faculty of Foreign Languages and Literatures, MTTLC, year II
Corrected by Silvia Petrescu