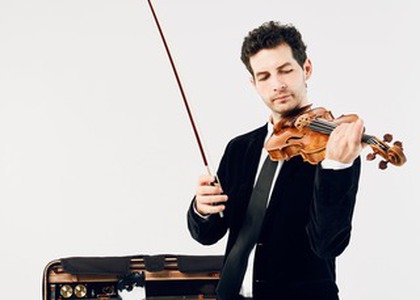 Interview with violonist Valentin Șerban (I)
Monday, 30 January 2023 , ora 11.00

Under the aegis of the project "Inheritors of Musical Romania", at the Radio Hall will be held, on the 12th of February, an event-recital by violinist ValentinȘerban- the winner of the International Contest George Enescu, 2020/2021 edition- and the pianist Daria Tudor. The tickets for the recital named "Violin in love" have been already put up for sale, being the first event organized by Radio România Muzical and Rotary Club Pipera in collaboration with Artexim.

"Violin in love" is the title of the recital which will take place on the 12th of February at the Radio Hall. We can assume that the choice was inspired by the two holydays in February, Valentine's Say and Dragobete.
It don't think it is related to that, but there is for sure a coincidence. It happened that the recital to be in the same period. It all started, in fact, from Brahms, Schumann and Clara Schumann, this triangle, from the wish to do some records and a CD, but given the fact that the programm was too long in this format, instead of the Sonate no. 2 by brahms we chose Sonata no. 4 by Beethovan.

I would like to talk at leisure about every work that make up the programm of the evening. You will start, I understand, with Robert Schumann.
Yes. With Sonata no. 2, the biggest by Schumann, op. 121, a chalange, I believe, for every piano-violin chamber band. It is very long, it is very whimsical, for that period of time, it may be even strange, it makes use of various voices, not exactly ordinary, there is also ponticello, all sort of quirks that, for that period, are even extravagant, but it is a very complex sonata. Every part is different, a very intersting scherzo, after which, as it is said, Brahms took insiration with his scherzo from the FAE Sonata. A very emotional sonata, writeen in a difficult period of time, emotionally talking about Schumann's life, just a few yeard before his death.

What attracted you at this sonata?
I don't know if there is a certain thing to describe it. I found my self drawn by all Schumann's works, the two sonatas and the concert. He has an unique approach, a sepcial expresivity, a particular sensitivity. It is never about virtuosity, even id it may include that too. It s some type of belcanto of the violin and that attracted me and attracted us, made us approach it.

I understand it is a very promising work.
From all points of view. It is, let's say, quotes intended, "commercial", it is accesible, accesible music, but of the highest quality and sensibility.

You move on to Three Romances by Clara Schumann.
Yes. The three Romances for piano and violin. I am very glad we approached the. They are special. It is very interesting to compare her work and Schumann's. You can see his influence. When you have beside you such a genius, it is almost impossible not to be influenced. Influences from Schubert can also be seen. Even from Brahms. Anyway, they are very special and passionate works and less tragical that Robert Schumann's sonata. They are part of a very accessible repertoire, romantic music, very sensitive and of fine and good taste.

I understand that you will end the recital with Beethoven, but, instead, you would have liked to be Brahms.
Yes. The initial idea was this triangle, Brahms-Schumann-Clara Schumann, this triangle of friendship and- as some may say, love triangle, but who knows?- of course, because of its length, since it would have been way to long with the sonata by Brahms. I chose the wonderful sonata by Beethoven, as accessible the music may seem these says, as far as I know, this sonata for piano and violin is his first one to be this successful: the first three haven't been too appreciated. It is strange how time changes and people change their perspective and how he became so loved. As for Clara Schumann and Robert Schumann, they were, for sure, influenced by Beethoven, in fact, I think that all great composers, that followed Beethoven, had been inevitable inspired by him. He was such a genius to be ignored. Beethoven has his gift of being, let's say, effective, he manages to surprise very intimate moments, but virtuosity too, in a music usually written in a classic manner, especially when we talk about early sonatas like this one.
Interview by Petre Fugaciu
Translated by Andreea Petrescu,
University of Bucharest, Faculty of Foreign Languages and Literatures, MTTLC, year I
Corrected by Silvia Petrescu