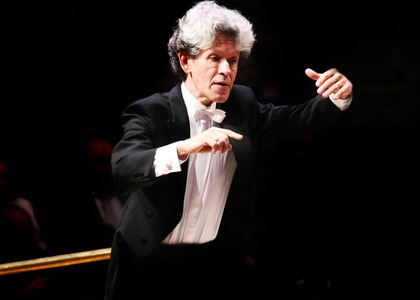 Interview with conductor Laurent Wagner
Monday, 30 January 2023 , ora 11.08

Conductor Laurent Wagner will lead the Radio National Orchestra at the concert scheduled to take place at the Radio Hall on Friday, January 26th, 2023.
The French musician directed a large number of opera performances, as well as symphonic concerts, especially in Germany but also in other European countries; in Ireland, he was the main conductor of the RTÉ Orchestra. He was also the main conductor of St. Gallen Theater Orchestra in Switzerland, and the musical director of the Altenburg Theater (in Gera, Thuringia), between 2013-2020. The audience will be able to listen to soprano Valentina Naforniță perform as soloist on Friday evening.

Conductor Laurent Wagner offers us more details about the concert's schedule, in an interview carried out by Florica Jalbă:

Maestro Laurent Wagner, this is your first collaboration with Radio National Orchestra. How have the rehearsals been going so far?
Yes, indeed, this is my first collaboration with the Orchestra; it's not my first time in Bucharest, but it is my first time with the Radio. I was introduced to the ensemble only two days ago, but I already believe the Orchestra is very good; so far, the rehearsals have been going really well, and if we focus, we can work excellently, so I am pleased with how work has been going until now.

I suppose the musical arias are soprano Valentina Nafornița's choice, but I would like to know how you envisioned the entire program to include both orchestral parts and choral fragments?
I had very little time at my disposal to prepare for this concert. The Radio Leadership of Orchestras and Choirs and I have tried to create a suitable program for the arias chosen by the soprano. The program includes instrumental works, such as Vltava by Bedrich Smetana, the Die Fledermaus overture by Johann Strauss II, and other titles that I believe are well-known. We will perform the Chorus of the Slaves from Nabucco's work, as well as two amazing choirs from Otello's first act: Evviva Otello and Fuoco di gioia, excellent parts of Giuseppe Verdi's work.
Interview by Florica Jalbă
Translated by Denisa Stanciu,
University of Bucharest, Faculty of Foreign Languages and Literatures, MTTLC, year I
Corrected by Silvia Petrescu