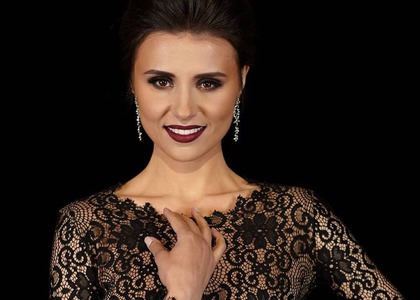 Interview with soprano Valentina Nafornită
Monday, 30 January 2023 , ora 11.11

Soprano Valentina Naforniță is going to be the solist of the concert which will take place on Friday, the 26th of January 2023, on the scene of the Radio Hall. The artist will evolve in the company of the Radio National Orchestra, at the conductor's desk being the French conductor Laurent Wagner.

We find out more details from soprano Valentina Naforniță:

During the concert fron Friday night you are going to interpret pieces from plays by Dvorak, Mascagni și Catalani, as well as pieces from operettas by Lehar and Strauss-the son. How did you think this selection for the reunion with the public from Bucharest?
It's somehow been a symbiosis between past and present, this program, because from the very first moment I received the invitation for this wonderful concert I was preparing for a new production of The Bat, at the Carlo Felice Theatre from Genova and of course, I thought I had to include the wonderful Csardas from that operetta by Strauss. And the other plays, one by one are linked to my student years- for example, the piece "Song to the Moon" has been the first play with which I debuted on a scene, for the first time, namely the scene of the Romanian Athenaeum and bring me such beautiful memories. I was thinking it was very important to come back to Bucharest in such an important concert for me and bring back something for the public from there. That's also how all the other plays were thought. Something I probably never played here in Bucharest and I wanted it to be a very romantic repertoir and a repertoir liked by the public and we hope we will succeed.

You have recently debuted in the role of Rosalinda. If I'm right, it is the second title of operetta fron your repertoir, after "The Merry Widdow" by Lehar. What was this experience like, taking into account not only the vocal typology, but also the specific of an operetta role that also includes spoken texts and dance?
This is the second operetta role, but it can't be compared to the first, with Valencienne from "The Merry Widdow", because this one is more complex and more difficult. In the beginning it was somehow pretty difficult approaching this role which is much more dramatic than it seems. It's written in such way, rather instrumentally, especially because it includes a lot of text and one must somehow find that balance of energy and dosage of energy you need to keep it fresh all the time and also the voice to sing the Csardas, somewhere at the end, after so much dialogue and after the pretty complicated first act. But I'm glad I accepted this challenge of singing this role. Actually, I had had an invitation to debut with this role in Florence a few years ago, and I said it would have taken me a little bit more time to approach it, to work on it and come with it on the scene. So, I think now is the right time, because I indeed had to work a lot. As I said, it's not an easy role or a role I'm used to sing with on the scene or belcanto or a role from Mozart and yes, it's somewhat more interesting and it's beenca real pleasure to interpret it and I'm glad I accepted the challenge, especially during this period.

What does your agenda for the next period look like and what roles are you considering for new debuts?
I create my agenda in such way that I have respiro moments between contracts, between roles, between debuts, because it's very important to me, when I go somewhere to focus only on the given role or the given concert and not come with a whole luggage of other scores I would study there. I am, maybe, a little bit different from other musicians, although yes, of course, I can study, but not very much, I don't want to be too involved in other projects but the one I have to do at that moment. To be somehow completely abandoned in Strauss's music, if this is what I work for a month and a half ori in Donizetti's and so on. That's why this year I'm having a new debut which is very important for me, namely in a concert in which I will interpret Vier letzte Lieder de Strauss, so, again, something very different and complicated. I go back to Florence where I will debut in Micaela's role from the play "Carmen", with the master Zubin Mehta at the desk and I can't wait for this production. After that, for the next season, of course I have other new roles, other stages I sang on before. New stages, on whixh I will debut with the role Mimi - for example, at Staatsoper Berlin; I sang in Berlin before, but I have never sang in this new hall, that was opened again a few years ago and I go there to interpret the role of Mimi, the next season. More details will be revealed later.
Interview by Florica Jalbă
Translated by Ema-Teodora Rădulescu,
University of Bucharest, Faculty of Foreign Languages and Literatures, MTTLC, year I
Corrected by Silvia Petrescu