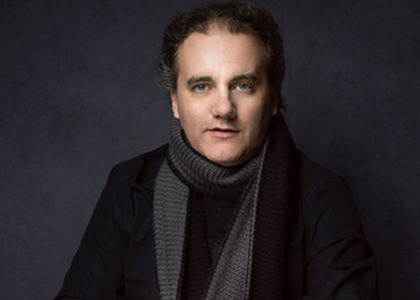 Interview with pianist Josu de Solaun
Tuesday, 31 January 2023 , ora 14.06

The pianist Josu de Solaun is for the second time among the ICMA winners. Josu de Solaun spoke with Alexandra Scumpu about the disc for which he won the prize at the solo Instrument category.

Congratulations for the prize won at the ICMA (International Classical Music Awards). How did you receive the news?
I was very happy because the list of the previous winners contains names of extraordinary musicians. Also the list of the nominated people is formed from musicians whom I admire very much. Just the fact that you're on the list gives you the feeling that you're part of a musical family, that you're part of a certain tradition and I'm honoured to be included in it. We musicians are very sensitive people who constantly criticize ourselves. And the fact of finding someone who encourages you to keep going can be compared to finding water in the dessert. Psychologically speaking, finding someone who tells you that everything is going to be alright and that you should continue what you're doing is relieving and hopeful. Given these uncertain times, the prize also holds an emotional value, so I was very happy and grateful.

This is the second time you're in the list of winners - in 2021, you won at the Chamber Music category, with a disc made in collaboration with the violinist Franziska Pietsch, and this year you won at the Solo Instrument category. Could you please offer us a few details about this disc?
The disc was made during the pandemic, in march 2021. That was the last time I saw my mother because, a few days after the recording of the CD, she went to the hospital due to COVID infection and I never saw her again after that. It was a difficult period in my life from an emotional point of view. I was in isolation at home when I decided to make a CD which would have music that sends light, hope, things that I couldn't experience at that time; works that express the opposite of what I was going through during the pandemic - humor and happiness, an entire set of human emotions. And Haydn is a maestro of these things. I don't think there's any other composer who can touch such a large set of emotions - from ridicule to sublime, from tragic to comical, from cosmopolitanism to pastoral, from irony to love and delicacy. I thought that I could use these recordings to heal in some way. It was a strange choice, because people don't think of Haydn as a composer who expresses our times through his music, but I thought that I need him, because he was present in my life ever since my first musical beginnings. As such, in a way this was a love letter to Haydn.

What does your agenda contain in the next period?
I have many concerts programmed in different countries, concerts with the orchestra, as a chamber music partner, solo recitals, and I also handle the composition. I've been composing since childhood, but now I'm doing something I haven't done before - I interpret my own works in front of the public. I'll sing my own concert at the piano, now I'm composing a few sonatas for the violin and piano and I'll also interpret chamber music in premiere this year and the next one. I also give recitals where I improvise at the piano - I started with these things during the pandemic. I'll also launch my final CD, the second one with improvisations at the piano. I like to teach as well. I have a selected group of students whom I guide and mentor, and alongside this, I conduct. This year I'll conduct the Philarmonic orchestras from Ploiesti and Satu-Mare, and I'll have programs where in the first part I'll conduct while also singing at the piano, and in the second part I'll also conduct a symphony.
I plan on making recordings and launching a CD with the piano concerts by Liszt, a CD with my music and a disc which will be made alongside well known chamber music interpreters: the violinists Franziska Pietsch, Jesus Reina, Anna Nilsen - they're extraordinary musicians who I'm lucky to consider as my musical family and together we'll make more recordings in the following years. Because the chamber music is probably my biggest passion.
Interview by Alexandra Scumpu
Translated by Hakan Ugur Geafer,
University of Bucharest, Faculty of Foreign Languages and Literatures, MTTLC, year II
Corrected by Silvia Petrescu