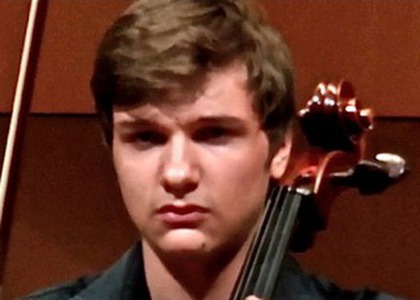 Interview with cellist Andrei Ionita
Monday, 6 March 2023 , ora 10.26

On Wednesday, March 1st, the Romanian Athenaeum will host an extraordinary symphonic concert performed by the "George Enescu" Philharmonic Orchestra with Yuri Botnari as its conductor. The soloist who will perform alongside the Bucharest-based orchestra is cellist Andrei Ionita. He will give us more details about tomorrow's concert, as well as about the reiteration of the event in Chișinău.

You will return on the Romanian Athenaeum's stage on the very first day of spring. What are your thoughts on performing Cello Concerto No. 1 by Camille Saint-Saëns?
For me it's always a great joy to be in Romania and especially on the Romanian Athenaeum's stage. This is a musical present organized by the "George Enescu" Philharmonic Orchestra and I can't wait to make our public happy.

Can you give us more details regarding the choice of the evening's schedule? More precisely, what was the motivation behind picking this piece?
The criterion in choosing the schedule was the smaller scale of the composition. This is why our options from the cello repertoire were Variations on a Rococo Theme by Tchaikovsky (which I had performed last October on the very same stage) and Cello Concerto No. 1 by Saint-Saëns, which I had performed with the orchestra, but as a livestream concert, in pandemic conditions. So in order to do it right, we decided to perform it in front of our public, in Bucharest and Chișinău.

I gather that you will perform the concert again in Chisinau alongside conductor Yuri Botnari?
Yes. It is part of a project between Romania and Moldova to build relations as far as music and culture is concerned. I am very happy to return (hopefully safely) to Chisinau after so many years and to perform again in the Organ Hall.

From a soloist's perspective, what musical aspects contribute to a good collaboration with the conductor?
I would say professionalism from both sides - both should know the score very well and have the ability to reach a "musical compromise". It's also important to always be friendly and polite.
Interview by Norela Costea
Translated by Ioana Diana Sandu,
University of Bucharest, Faculty of Foreign Languages and Literatures, MTTLC, year II Corrected by Silvia Petrescu