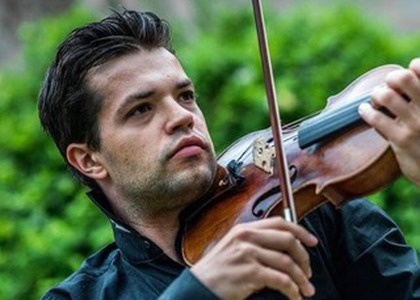 Interview with violonist George Tudorache
Tuesday, 7 March 2023 , ora 14.48

Originally from Bucharest, George Tudorache has been a concert-maestro of the Royal Philharmonic Orchestra from Liège for 11 years, winning this position by the time he was 24 years old. In the second part of the last month, he was invited by the "George Enescu" Philharmonic from Bucharest, also as a concert-maestro, participating in concerts conducted by Gabriel Bebeșelea on 16-17 February and, respectively, by Roberto Abbado on 23-23 February 2023.
We find more details about this collaboration, but also about future projects from the violonist George Tudorache:
Last December we met for an interview during the break of the concert in Liège, which we broadcasted live. We listened then the to the oratorio "The Happinesses" by Cesar Frank. February brought you a collaboration with the Phiharmonic from Bucharest as a concert-maestro. You participated in two series of concerts. First of all, how did it all start?
It was a great pleasure, indeed, to be invited by the Symphonic Orchestra of the "George Enescu" Philharmonic as a concert-maestro. I had a meeting with maestro Marin Cazacu, the director of the philharmonic, in December and we discussed about some programs for the orchestra starting with 2023. I was really happy to come to Romania and collaborate in February, because I had some free time. Here, in Belgium, there is a two-week carnival holyday and I took the opportunity to come here and collaborate with the Philharmonic as a concert-maestro. These two weeks were fabulous. The first week was a programme which comprised "The Planets" by Gustav Holst and "Atmosperes" by Ligeti, plus a really beautiful piano concert- the Concert no. 1 by Beethoven with Federico Colli, with maestro Gabriel Bebeșelea as the conductor, who is a this point, the prime conductor of the "George Enescu" Philharmonic.

Then came the week with Roberto Abbado as a conductor. Therefore, two weeks, two different programes. How did it work with two different maestro conductors, and with the colleagues from the orchestra?
Very beautiful! You can imagine... I left Romania in 2006, just after finishing my baccalaureate. I went to continue my studies in France, athe the Superior Conservatory from Pris. I knew, of course, some colleagues from the wind and strings, but I was somehow unknown to my Romanian colleagues. It was a great collaboration. I felt really good, given the fact I have been a concert-maestro fro 11-12 years and I have collaborated with over 40-50 orchestras all over Europe. For me it was a great pleasure, but, being honest, I was a bit nervous from the beginning, at the first rehearsal, because, you can imagine, coming to my native country made me feel nervous. It all went well and I have to say that both meastros, Gabriel Bebeșelea and Roberto Abbado have a great tehnique in imposing themselves in front of the musicians and holding the whole orchestra in check. I tried to help as much as I could with the esemble, with the homogenity of the sound and I had a very good communication with both of them. And a very good collab with the both soloists- Federico Colli and Remus Azoiței... Remus, who, as we know, is a fantastic violonist and, at the sane time, professor at the Royal Academy of Music in London.

Will there be a continuation of this collaboration?
I hope to start a new collaboration in the same way, also as guest concert-mastero, but also as soloist; a possible Tchaikovsky or Sibelius concert.

What are your further plans both at home and abroad? I would like to remind our listeners that you have performed on Romanian stages both as a violin soloist and as a conductor.
I have always had a passion for conducting. I started attending a few masterclasses in the Czech Republic, starting in 2018, in Karlovy Vary, with an extraordinary teacher Charles Olivieri-Munroe, but of course, as long as I was guest concertmaster in many orchestras, I had the opportunity to benefit from the advice of Sir Simon Rattle, Bernard Haitink, Myung-whun Chung, basically, to learn certain secrets to continue my work as a conductor. I'm passionate, I'm working very hard for this path and I will put on the table... there are many projects in the future both at home and abroad, collaborations as a conductor, but also as a soloist of course. It will give me great pleasure to return to Romania, I hope as soon as possible. This year - with the Brașov Philharmonic in order to conduct a very beautiful programme by Brahms.
Interview by Florica Jalbă
Translated by Andreea-Cristiana Petrescu,
University of Bucharest, Faculty of Foreign Languages and Literatures, MTTLC, year I
Corrected by Silvia Petrescu