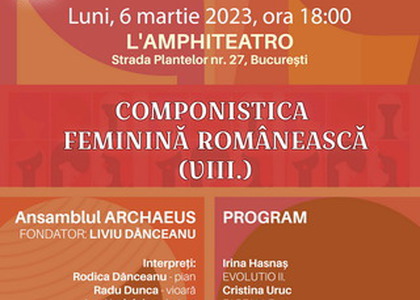 Interview with pianist Rodica Dănceanu
Tuesday, 7 March 2023 , ora 14.50

The "Archaeus" ensemble, founded in 1985 by composer Liviu Dănceanu, will perform today, March 6th, a concert at the "Amphiteatro" Arts Club in Bucharest, starting at 18:00. More details from pianist Rodica Dănceanu, manager of the ensemble, in a dialogue with Ioana Țintea.

Mrs RodicaDănceanu, first of all I would like to ask you to tell us about the significance of this event.
The concert on 6 March, which will take place at the Amfiteatru Hall - ClubulArtelor, 27 Plantelor Street - at 18.00, is the eighth edition of a cycle of concert-omagiu initiated by composer LiviuDănceanu and dedicated to fellow composers and is organized in collaboration with the George Enescu Museum.

Given that this concert is dedicated to the eternal feminine, how is this aspect reflected in the works that the ensemble will perform?
The programme includes the works "Evoluțio 2" by Irina Hasnaș, "Farfalle" by Cristina Uruc, a trio for wind players, oboe, clarinet and bassoon by Felicia Donceanu, Doina Rotaru's Sonata for cello and an absolute premiere by Laura Manolache, entitled "Balada florilor de mac".

I know that in the second part of the evening you have a surprise in store for the audience. What exactly is it about?
We'll unravel it a bit, then! It's about three songs - Santa Lucia, Mamma, son tanto felice and Cielitolindo, which are arrangements for 'Archaeus' by Laura Ana Manzat. They will be performed by soprano Maria Mădălina Constantin and bass Alin Horia Mânzat.

The Archaeus Ensemble has been an ambassador of contemporary performance and creation in Romania for over 30 years. Is today's audience more receptive to this new music?
The Archaeus Ensemble has been active for 38 years and is the longest and most prolific ensemble in Romania. I believe that an audience has been created even for contemporary music - which is still underdeveloped compared to other music. We have our audience and there is always room for improvement. I see more and more young people coming in and being interested in contemporary music, and we try to tackle different styles; we don't just play contemporary music. We've also had concerts with music of Byzantine origin, works from other periods in music history... So, we try to do a kind of miscellaneous programs, we mix them to please all the audience.
Interview by Ioana Țintea
Translated by Andreea-Cristiana Petrescu,
University of Bucharest, Faculty of Foreign Languages and Literatures, MTTLC, year I
Corrected by Silvia Petrescu