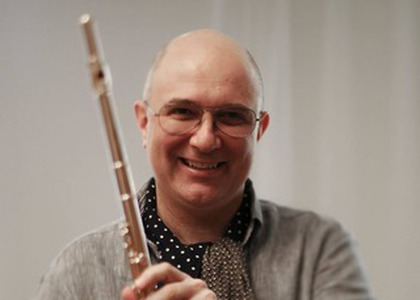 Interview with the flutist Ion Bogdan Ștefănescu
Thursday, 9 March 2023 , ora 11.47

"Game of Mirrors" (Jeu de Mirriors) is Doina Rotaru's piece for four flutes, a splendid one, and we have rendered, somehow, this title.
"Game in the Mirrors" suits this spectacle better, because, first of all, it is a dialogue of generations of poets. We bring to the public the poetry of the classics, i.e. Mihai Eminescu, Arghezi, Blaga, after which we will have in the mirror the generation of Nichita Stănescu, Cezar Ivănescu, Nina Cassian, Adrian Păunescu and, henceforth, George Stanca and Mircea Dinescu. These are poets who have a great impact in Romanian literature. They are the peaks of Romanian lyricism and the music of some Romanian composers set in the mirror.
What I mean is that we start this journey from the first written musician notes that we have from Ion Caioni and Anton Pann, then we slowly come to Ciprian Porumbescu's music to a more peaceful and contemporary area where we will speculate the favorites of the interwar period. We will perform "I love the woman", "The heart is a telephone", "Bucharest Sweet Girls' ', etc. In any case, we will perform these favorites that everyone, in fact, somewhere in a corner of their soul, hums them, in Ioan Dobrinescu's impeccable arrangement. All these pieces, apart from the Anton Pann one which is in my arrangement. Therefore, Caioni, Ciprian Porumbescu, Fernic and Ion Vasilescu are in Ioan Dobrinescu's arrangement. We have these in our program with the original music as well. I too have the original music, therefore, we reach the music of our time. It is a journey through Romanian culture of the highest value.
In addition, "Game in the Mirrors" is also about the dialogue of generations of performers, because look at me! I have the courage to take the stage with a large group of outstanding young flutists. Except for Ruxandra Rus, all others are my students. They studied or are studying flute with me. I am proud of this, but I must admit that it's also a challenge because it's not easy to sing in front of your students. I will conduct, perform and recite.
That's what this spectacle is all about and that's why we called it "Game in the Mirrors". We can bring absolutely everything that was of great importance in Romanian culture, both poetically as well as musically, under the umbrella of this title.
Interview by Ana Sireteanu
Translated by Ioana Negrea,
University of Bucharest, Faculty of Foreign Languages and Literatures, MTTLC, year II
Corrected by Silvia Petrescu