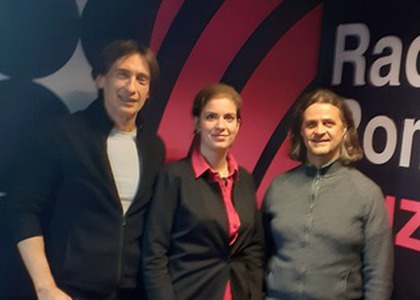 Invited to Perpetuum Mobile, violinist Ioana Cristina Goicea and conductor Cristian Oroșanu, have a conversation with Gabriel Marica
Monday, 13 March 2023 , ora 10.38

In the Radio RomâniaMuzical studio, we have with us the violinist Ioana Cristina Goicea, and also the conductor of the concert on Friday, March 10th, from Sala Radio, maestro Cristian Oroșanu.
Good evening! Welcome!
Ioana Cristina Goicea: Good evening! I'm glad to be here!

Thank you, Ioana, for coming straight from the airport. You faced Bucharest traffic again. How do you feel when you come home? How do you feel when you come to sing in front of the Romanian public?
Ioana Cristina Goicea: It is the greatest pleasure for me. I come home very often, that's right,but to come home and sing at the same time, is an enormous joy for me.

You play at Sala Radio, a familiar place for you.
Ioana Cristina Goicea: Yes, very familiar. I've been coming to Sala Radio for almost 30 years.

We have to remind the listeners that your mother, the violinist Cristina Anghelescu, constantly performed here, at the Radio Hall, alongside the radio orchestras. I had an interview with her a little while ago. I was asking her what her favorite concert is. She replied, diplomatically, that the next one she had to sing. But beyond that, she told methat the big three in D major - Beethoven, Brahms and Tchaikovsky - are a touchstone and should be in the repertoire of any self-respecting violinist. What do you think?
Ioana Cristina Goicea: I think that there should be - in any case, that they are a touchstone - Iagree, 100%, and tastes are, of course, different, each with his favorite concert. I can't say which is my favorite concert because there are several. If I were to say only one, I think it would be a disservice to the other works.

How does it look from the point of view of the conductor, Cristian Oroșanu, when you are with a violinist on stage? What concert would you like to conduct?
Cristian Oroșanu: Concerto no. 3 by Saint-Saens, which I'm sorry is not in D major (laughs), but it is a very beautiful concerto and a concerto that is played quite often, to the delight of the publicand I think also of the soloists. I sang it once even with Cristina Anghelescu, in Iași, I think. Now I am pleased that the next generation is taking the stage with this concert (Ioana Cristina Goicea).Well, Ioana and I are not meeting for the first time, we did Shostakovich together in Brașov before, and I was very happy when the stars aligned in such a way that we found ourselves on stage together again.

You are constantly with us, here at the Orchestra Radio desk. It will be a "French Evening".
Cristian Oroșanu: That's right.

Leo Delibes follows, in the second part.
Cristian Oroșanu: It was scheduled because of the Saint-Saens concert, because the two composers are contemporaries, born a year apart, and even friends, and I thought thatthe National Radio Orchestra - currently quite loaded with heavy programs - would benefit from a lighter program. And this suite from Coppelia fits very well, both with Saint-Saens and with their busy schedule that I wanted to lighten up.

Ioana, you said some time ago that chamber music brings you great joy, and I noticed this joy listening to the Beethoven album you recently released with Andrei Ioniță and Daria Tudor - an album released by Casa Radio Publishing. How does it feel to arrive in front of the orchestra, compared to the intimate connection that is created in the chamber music recital?
Ioana Cristina Goicea: I've been singing as a soloist since I was born and I was lucky to have a very large repertoire, I play a lot of violin concerts with love and I like being a soloist. But, for me, chamber music occupies an even more important place, because the feeling I get when I play chamber music (not only duo, but also trio, any kind of chamber music group)it's a much closer, much more intimate feeling. I don't always have this feeling when I sing as a soloist, but I always try to collaborate with the orchestra as if it were a music ensembleof room.

We have to say that at the end of the concert on Friday there will be an autograph session for two albums: this one, Beethoven, but also an album from the "Heirs of Romania", a musical project in which you were present, I think, about two times, it is about the recital with a now classical duo, Ioana Cristina Goicea and Andrei Banciu. As far as I know, your mother also sang with Andrei Banciu, in a recital tour. What is this part of communicating with the public, when you see them face to face, one by one, individually, standing by talk to them? How do you feel about the autograph session?
Ioana Cristina Goicea: It's always a great pleasure. I see that people are very close to each other, very open, very eager. They leave from the concert hall very happy, and that's the thing that gives me the greatest joy, to see people happy. This is our goal, as artists.

You have prizes in important competitions. Queen Elizabeth, Indianapolis, Michael Hill, but also in Trieste, with chamber music. Did they help you, do the contests help you? As if, somewhere, Bartok was saying... and I read this, he obstinately refusing to sit on the juries, burst out at one point and said: "Sir, contests are for racehorses, not musicians!"
Ioana Cristina Goicea: And he was very right, except that we live in a world where we have to be flexible. The contests helped me a lot, but I'm very happy to have finishedwith them. They helped me, and I can't deny that, but pageants aren't for everyone. Not all musicians have to participate in competitions. They helped me, but I wouldn't say that all of them must do the same.

Cristian Oroșanu, what do you think about contests and what Bartok was saying, for example?
Cristian Oroșanu: I would say that they are a necessary evil. And speaking of contests, I don't know if you know... I created a contest last year that will happen every year with a different orchestra. This competition is called "Orchestra's conductor - democratic competition". I mean, there is no jury,but the orchestra votes for the conductors who come to the lectern and chooses them to invite them to conduct in the following seasons. It is a much more relaxed atmosphere than when there is an invited external jury, with orno arrangements, I won't go into details... but the people felt perfect - both those in the orchestra and those at the lectern, because they actually felt scored by the musicians in the orchestra themselves.This is a concept that belongs to me and I'm really proud of it, because it turned out really well. This year it happens in Ploiești, next year it will happen in Satu Mare and, in two years, I will bring it to Bucharest, right here at Radio.

We can't wait to hear back about this contest! We gave Radio RomâniaMuzical information about it. I also had an interview with you, Cristian Oroșanu, about this, and about this idea of ​​a democratic jury, anyway, very suitable for a conductors' competition. If the orchestra doesn't like you, no matter how good you are...
Cristian Oroșanu: Yes, and there is another interesting aspect. A chemistry is created between the orchestra and the conductor. This results in the orchestra's decision not to love the same conductor as another orchestra. AndI give an example. Simon Rattle, who had a distinguished career in Berlin, was invited at one time, before Berlin, to the Deutsche Symphonie Orchestra, where I was once an assistant. And I knowfrom the musicians that Simon Rattle was not loved at the DSO although he is a great conductor and the orchestra is a great one. However, something didn't stick there, and luckily Simon Rattle was the music director of the most famous German Orchestra. But this is an example that says that not every conductor is equally loved by each and every orchestra.

Ioana, I would like to know which of the violins you playwill be heard here on Friday evening, at Sala Radio?
Ioana Cristina Goicea: I don't play as many violins as you think, but on Friday evening I will play an extraordinary violin, Jean-Baptiste Vuillaume.

That's what we wanted to hear too. So, dear listeners, if you will be present...
Ioana Cristina Goicea: It is an extraordinary instrument, which does not belong to me, but I have the opportunity to play this violin now.

You are also a teacher. How do you feel in this position? I know you have a role model. Your grandfather, Aurelian Anghelescu, was a teacher and a very famous violinist.
Ioana Cristina Goicea: I learned a lot from him.

And from your mother you also learned a lot, right?
Ioana Cristina Goicea: Yes. I also took my first violin lessons from him and my mother, and yes, I really like teaching. Otherwise I wouldn't have done it if I didn't like it. It's in my nature and I really enjoy helping people, making them sing better if possible. Most of the time, this can be possible.

You did a masterclass in Thailand. How was this exotic experience?
Ioana Cristina Goicea: Very exotic indeed, it was a great experience. I didn't really want to go back, I tell you the truth. I would have stayed there if possible. It was very beautiful. Not only the masterclass, but also the concert, and everything. I also had some time to see this wonderful country.

Is the Sibelius (concert) coming up in Pitești?
Ioana Cristina Goicea: Yes, on April 6th. You are up to date. There is also Sibelius in Brașov, on April 20th, and a lot of things after that.

Cristian Oroșanu, after Friday, where will we see you again on stage?
Cristian Oroșanu: I'm going to Brașov, but I'll stop in Ploiești. Next week I have a concert in Ploiești and in two weeks, in Brașov.

Ioana Cristina Goicea, welcome home again! Cristian Oroșanu, welcome to our studio! I wish you good luck on Friday, together with the National Radio Orchestra, and I hope to see you here as often as possible, at Radio România Muzical, to talk about your notable achievements. We are waiting, we haven't forgotten about that contest, to talk about it and also about Cristian Oroșanu's results.
Cristian Oroșanu: Yes, the second edition will be in June, towards the end of June, and I think that at the beginning of June we could talk about it.
Interview by Gabriel Marica
Translated by Beatrice Porumb,
University of Bucharest, Faculty of Foreign Languages and Literatures, MTTLC, year II
Corrected by Silvia Petrescu