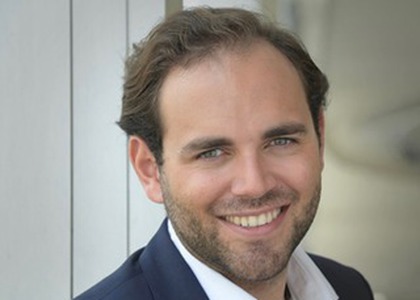 Interview with baritone Liviu Holender
Monday, 20 March 2023 , ora 11.00

Together with French pianist Juliette Journaux, baritone Liviu Holender will perform a lied recital on the 18th of March on the Romanian Athenaeum's stage. The artist was born in Vienna, but was in constant contact with the Romanian language and with his father, IoanHolender, native's country. Therefore, we'll find more details about this event in an interview held in Romanian that the baritone gave our colleague, Ioana Țintea

Liviu Holender, Saturday on the 18th of March you'll perform in a lied recital on the stage of the Romanian Athenaeum. How do you feel about appearing before the Romanian audience again?
I am particulary glad to be able to perform a recital in the beautiful hall of the Atheaneum. It is a hall which has an oustanding acoustic for a lied recital. I am really happy to sing here. I have already performed at the National Opera București in the role of Count Almaviva in the "The Marriage of Figaro" and "Silvio" fromPaillasse by Ruggero Leoncavallo, but my debut will be at the Athenaeum and I'm glad for that.

How did you plan the structure of the program?
I have chosen a diversified program. For the first part there would be Franz Schubert's Lieder. His Lieder are for me among the most beautiful Lieder for voice, but I'll be also interpreting some of Johannes Brahms, Strauss and Mahler's Lieder and a very nice song cycle by Maurice Ravel: Don Quichotte à Dulcinée. With this very diversified program I thus invite you to take on a musical journey of the German Lieder.

How can you describe your collaboration with pianist Juliette Journaux?
My pianist is a young concert pianist. We have met at a Canto Academy in Paris that we have both undertaken three years ago and from then on, we've been performing in recitals together at the Paris Philharmonic, the Auditorium at Musée d'Orsay and Radio France Musique and now we're continuing to do so in Bucharest, at the Athenaeum.

When will you return on the Romanian stages, after the recital from the 18th of March?
After the recital in Bucharest, I have a very important commitment, first in Vienna, with the Vienna Philharmonic at Konzerthaus where I play the St Matthews Passions oratorio, and after that,at the end of April, I will interpret Mr. Sharpless in Puccini's "Madama Butterfly" at the Romanian National Opera, Timișoara.
Interview by Ioana Țintea
Translated by Georgiana Morozii,
University of Bucharest, Faculty of Foreign Languages and Literatures, MTTLC, year I
Corrected by Silvia Petrescu