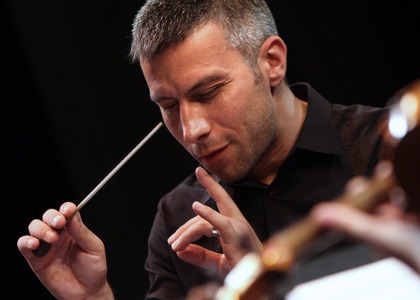 Interview with Tiberiu Soare
Thursday, 23 March 2023 , ora 10.12

Starting from March 22nd, at 7:00 p.m., Radio România Muzical will also be available in Iași, on the frequency 95.4 FM. The debut of the Radio România Music show will be marked by a series of events, brought under a festival held in the main musical institutions in Iași. In this context, the conductor Tiberiu Soare had an interview with our colleague Ioana Țintea about the concert he will conduct on Friday, March 24th, when he will be the head of the "Moldova" Philharmonic Orchestra from Iasi.

Tiberiu Soare, on Friday, March 24th, music lovers from Iași will be able to listen to a live broadcast on Radio România Muzical, the concert he will perform with the Moldova Philharmonic Orchestra, this event having a double value, the debut of the Radio România broadcast in Iași and the anniversary of the 26 years of existence of our post. How do you perceive this festive moment?
For me it is a joy. Otherwise, every time I meet again with my old friends from the Moldova Iasi Philharmonic. It is an occasion of great joy. We have been working together for almost 20 years. I can't wait to play this concert. Related to Radio România Muzical, a very important player on the Romanian cultural media market. I can only have words of praise. These many years that they are celebrating now represent so many years under the service of quality culture and I can only congratulate them, and the fact that a Radio Romania Music frequency is being launched in Iași can only be to the joy of all music and true culture lovers. The fact that there will also be a frequency dedicated to the city of the seven hills makes me even happier.

Looking back, how would you characterize your collaboration with our station?
An excellent one. Radio România Muzical has been by my side in all ways, in my long journeys. Many times I also had the privilege of being invited to participate in various shows, of course the concerts I performed with various orchestras, including the Radio Orchestras, were broadcast live by Radio Romania Muzical, so for me Radio România Muzical has been a reliable companion all these years.

Returning to the concert on March 24, how did you think about making the schedule?
The repertoire was agreed together with the management of the Iași Philharmonic, but I think it is a signivicant one, for the occasion it represents. We start with the prelude of Act III of Lohengrin by Richard Wagner, a bright moment, an exuberant moment, it's a kind of sonic fireworks, I think, very apt for the festive occasion of the concert. This effective and short piece at the same time will be followed by one of the piano masterpieces of all time, we are talking about the Concerto in A minor for piano and orchestra by Edvard Grieg, performed by Alexandra Dariescu. I am very happy to meet again with Alexandra, an extraordinarily intelligent musician, who, in addition to piano technique, also possesses a special sensitivity, a special musical intelligence, and I am very happy that we will collaborate again. We have met before on various occasions, on stage. In the second part of the evening we will perform the Ninth Symphony in E minor by Antonin Dvorak with the nickname From the New World. Dvorak was for a short time between 1892-1895, if I remember correctly, the rector of the newly established conservatory in New York. There, in the second year of his stay, in 1893 he composed this splendid symphony, perhaps Antonin Dvorak's most famous symphonic work.

What does this musical work mean to you?
A very deep one, because it reflects, on one hand, the way Dvorak perceived this new world in which he had come relatively recently. It is very interesting that Dvorak did not dwell on the urban landscape, I mean, he lived in New York, and during his residence there he took a trip right at the time when he was writing this symphony, in the highlands of the United States, he reached Iowa. I discovered some documents of the time, in a community of Czech emigrants in the United States. These Czech settlers were the representatives of that westward movement, they were also the bearers of that ideology that was prevaling at the time, that of manifest destiny, they tried to carry civilization forward with the help of the railways, which were already mostly built in that period and they were trying to bring civilization and what American culture meant to the west. Why does it have a special meaning for me? Because you can detect sounds of negro spirituals, no doubt, especially in the second part of the symphony, the lyrical part, but at the same time, I don't know how, by some kind of compositional magic, Dvorak manages to make the themes in this sound symphony to be, both North American and Bohemian, Czech, from the area where he was born and from which he came. This ambivalence, somehow admiration for the homeland he had arrived at and longing for the country he had temporarily left, this ambivalence of the themes constitutes an absolutely pleasant mix for any music lover and of course, we cannot overlook the spiritual aspect, which denotes a certain elevation from his previous works before this symphony.

In the end, I would ask you to make an invitation to the listeners in Iași to listen to Radio România Muzical starting from March 22nd.
I am very happy that this frequency of the Radio România Muzical station is also being launched in Iași. Music lovers out there will be able to enjoy all these splendid broadcasts of your station. I have great faith in the ability of all these Radio România Muzical actives to transmit good music. I invite the people of Iași to listen with great confidence and with great pleasure.
Interview by Ioana Țintea
Translated by Denisa-Elena Cincă,
University of Bucharest, Faculty of Foreign Languages and Literatures, MTTLC, year I
Corrected by Silvia Petrescu