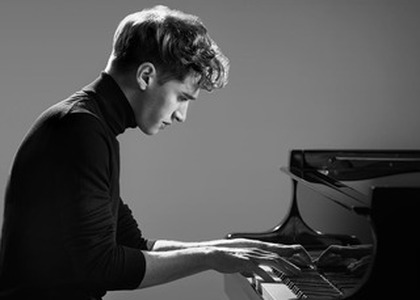 Interview with pianist Kirill Richter
Monday, 3 April 2023 , ora 11.53

Sounds and Senses is the title of the event proposed by the composer and pianist Kirill Richter for Saturday, April 1st, at the Bragadiru Palace in the Capital. His stage partners will be violinist Alena Zinovieva and cellist Avgust Krepak, together with whom they form The Richter Trio. Kirill Richter spoke to Ioana Șintea about his music, in the interview we offer you.

Kirill Richter, is this your first visit to Romania?
Yes, it's the first time I'm coming to Bucharest, in Romania, and I'm very excited.

During the event at the Bragadiru Palace, you will have as partners the violinist Alena Zinovieva and the cellist Avgust Krepak, together with whom you make up The Richter Trio. How did this collaboration take shape?
I don't see it as a collaboration, but more like a musical family. Everything happened naturally, we met 7 years ago when I asked Avgust to play my music. We held many concerts and tours together and now, yes, we are coming to Romania with the most important project of my life.

You will present to the public works included on the newest album, entitled "Chronos", released in 2019. How did this album come about and what are the main sources of inspiration in your compositions?
For the album "Chronos" I researched the theme of time in various ways, the mythological perception of a hypothetical situation where you imagine time as a living creature that you can talk to and ask various questions. Each person perceives time differently. It is connected with our memory, with the places we have been and with everything related to the environment. For me, "time" is an endless source of inspiration, and this album is just the beginning. During the concert we will also perform some of my latest compositions, such as "Seven Ages of Men", a work inspired by the texts of William Shakespeare and many other pieces.

What is the atmosphere you want to create for this event called "Sounds and Senses"?
The title probably speaks for itself. For me, existence means being surrounded by a world of sounds, and the combination leads to the birth of music, which enriches time. I remember the first time I played the piano in my grandmother's house, it was an amazing moment, when I pressed the key and the sound came out... that magical feeling that you made that sound. Sound can be born from anything and can have many meanings.

How would you characterize your genre of music?
For me it's just instrumental music. I don't want to regiment myself into a particular style; it's a problem that all composers face today. My music does not belong to neo-classicism and has nothing to do with Stravinsky or Prokofiev. It does not fit into pure minimalism either. It would rather be related to the "new simplicity". I try to use the melody in all the works. A reporter called it "minimalist expressive music" and I think this characterization is the closest to what I want to express. But minimalism not in the sense of using specific techniques, but in the sense of a clarity of expressiveness. Music is a story, just like literature or poetry, but it is a story translated into musical language.
Interview by Ioana Țintea
Translated by Medeea Alexandra Stan,
University of Bucharest, Faculty of Foreign Languages and Literatures, MTTLC, year II
Corrected by Silvia Petrescu