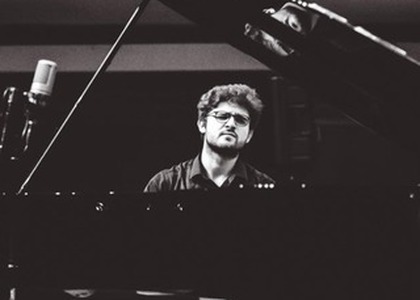 Interview with pianist Antoniu Nagy
Wednesday, 5 April 2023 , ora 11.22

Pianist Antoniu Nagy will be the soloist of today's concert hosted by the Bucharest Philharmonic. The artist will be in the company of the National Symphony Orchestra of Romania, conducted by Cristian Mandeal. Antoniu Nagy tells us about his presence on the stage of the Romanian Athenaeum in his dialogue with Ioana Țintea.

Antoniu Nagy, to begin with I would like to talk about your musical career. I know that you started studying the piano at the age of 12, and now you are a laureate of several national and international competitions. What are the defining moments of your evolution so far?
First of all, a very important moment for me was my coming to Romania, because I started studying the piano in Italy, having settled there as a child. I had the great fortune to study with some exceptional teachers - maestro Daniel Goiți and teacher Judith Radu from the Art High School in Oradea. Another very important moment for me was my debut in Carnegie Hall at the age of 16, at which point I can say that I decided to continue on this path. Since then, the piano and I have been inseparable.

Returning to the concert that you will perform on the stage of the Romanian Athenaeum with the National Symphony Orchestra of Romania, I know that this is a special moment in your career. We are talking about the debut on the big stage of the Athenaeum together with an ensemble made up of the most valuable members from all generations of the National Youth Orchestras of Romania. With what feelings are you waiting for this event?
I am very honored by this invitation. It is a great honor to have the opportunity to make music with such established and talented artists, especially on the sacred stage of the Romanian Athenaeum. It's a unique moment because I'll be playing my favorite concerto, Rachmaninov's Concerto No. 3, which has always been a benchmark and a huge goal for me. I am very happy for this opportunity.

What made you choose this work?
First of all, it is my favorite work since I started studying classical music. I have always been fascinated by this great composer not only in his works for piano and orchestra, but also in his solo piano repertoire. As many pianists well know, it is an incredible benchmark for any pianist and many wish to play this concerto.

Much is said about the increased degree of difficulty of this opus by Rachmaninoff. How was it for you to prepare it?
Of course, compared to other repertoires that I have studied and played, I can say that it is the most difficult piece that I have studied so far. Indeed, the technical difficulties of this concerto are immense and require almost athletic training for a pianist.

What were the most challenging stages in the preparation of this opus?
It is a concerto that needs to be played a few times before I can say that I would be close to the best possible preparation. I had to study it a lot and I had the opportunity to sing it with the "Gheorghe Dima" National Academy Orchestra from Cluj in December.

Who was with you in studying the concert?
Maestro Daniel Goiți, who is my teacher in Cluj and whom I must thank very much for all the advice and for everything he taught me about this concert.

In the concert at the Ateneu, you will perform under the baton of Cristian Mandeal, an artist with a career spanning over 40 years. How do you view this collaboration?
I am very honored to collaborate with Maestro Mandeal. It's a very emotional moment for me.
Interview by Ioana Țintea
Translated by Medeea Alexandra Stan,
University of Bucharest, Faculty of Foreign Languages and Literatures, MTTLC, year II
Corrected by Silvia Petrescu