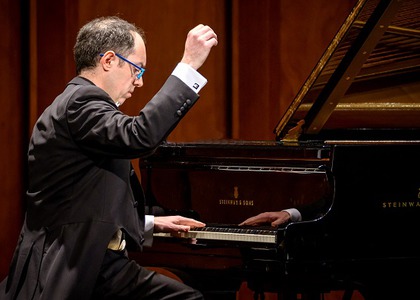 ICMA Prizes 2023. Interview with Alessandro Marangoni
Friday, 7 April 2023 , ora 10.50

This year, the jury of International Classical Music Awards (ICMA) honours Italian pianist Alessandro Marangoni with a special prize for this ponderous recording venture, which has come to an end and which Naxos has published in a single boxed set. In the ICMA Gala concert in Wroclaw, Marangoni will play Chopin's Andante spianato et Grande polonaise brillante in the (uncommon) version with orchestra on 21 April. Here is an article from the Italian Jury member Musica, by Nicola Cattò and Luca Segalla
There are several pianists who have approached, in the last fifteen years, the curious and provocative pieces and bits from the fourteen volumes of Péchés de vieillesse, old Rossini's enigmatic musical testament. Marangoni's is, however, the first truly complete one, extending to all the chamber music and all the vocal pieces (almost all of them recorded with Italian singers), including pieces coeval with the Péchés but not present in the volumes of the official collection, as well as some twenty recently discovered unpublished pieces. It is a demanding work, full of surprises, because the two hundred or so pieces in this corpus are stylistically very heterogeneous and outline the portrait of a sly and ironic composer, suspended between the gallant lightness of the salon and the stroke of genius capable of suddenly opening the doors to the Romanticism, that Rossini said he detested, and even capable, on some occasions, of going beyond Romanticism, anticipating the early 20th century French piano of Satie and Debussy.
Born in 1979, a diploma from the Conservatory of Alessandria and then a specialisation with Maria Tipo and Pietro De Maria, Alessandro Marangoni experiences music from a decidedly singular perspective. He has recorded a complete version of Clementi's Gradus ad Parnassum and is a great expert of piano rarities from the Italian 20th century, from Castelnuovo-Tedesco to Victor De Sabata. His debut at La Scala in 2007 was precisely to present the world premiere of the piano works of the conductor and composer from Trieste. He is a pianist who is curious and willing to put himself on the line by attempting new paths in the repertoire, in concert and not just in the recording studio, a pianist who is perfect for venturing into the harmonic subtleties, counter-senses and irony of Rossini's piano pieces. To venture without losing one's bearings, without allowing oneself to be fooled by the pitfalls disseminated everywhere by a Rossini who pretends to be serious when he is light and pretends to joke - his are, however, very refined musical jokes - when he is serious.

How did this project come about? And how has it changed along the way?
The project was born a bit by chance: I did not know this huge amount of Rossinian music. While studying with Maria Tipo, one day she told me that she had played some Péchés when she was young, and that she thought they would suit me. So I started researching and realised the size of this production: I understood it would be a great job not only as a pianist, but also as a researcher, which I was very passionate about. The sheet music was not readily available, often out of print… So I started - it was 2008 - thinking of putting together a selection of Péchés for a single CD; but I noticed that there was no real complete version of this repertoire, so I proposed to Naxos, my record company, to fill this gap. They reacted enthusiastically. But the initial project grew over the years, thanks also to the contribution of friends of the calibre of Alberto Zedda, Bruno Cagli (who was the first to give me a couple of manuscripts he owned) and the work with the Rossini Foundation, which made the manuscripts available to me. We pianists are used to working with published scores, and this was different from usual, as well as exciting. Some pieces in this integral had never been recorded, others were really unknown, like the Tema e variazioni that was among other sheets at the Rossini Foundation, and had escaped everyone's notice (and was not in the catalogue of Péchés that Rossini himself compiled).

How many pages were premiered?
Twenty. And that's not all. There are a couple of pieces discovered later. One even the day after finishing the recordings. They are two small things, but I would have included them on the CDs! And there will probably be more discoveries.

How did you organise the division between the CDs? A cultural choice or a purely practical one?
I tried to have consistency. At first, I thought I would record album by album, and make one disc correspond to each album: but it didn't work in terms of timing. So, I made choices, favouring unity of content. For 24 Riens it was easy, they took up a whole CD; other times I had to come up with different solutions.

The question is difficult, but which are the most interesting pieces, if you had to choose two or three?
I would like to mention the 'Tarantelle pur sang' (also taken up by Respighi in the Rossiniana), which was very well known but not in its original version, which I rediscovered in Brussels: so no longer solo piano, but piano with harmonium, clochettes and choir, whose original parts I recovered. And then, among the rarities, all those pieces like 'Ouf! Les petits pois' or those preludes that echo styles of the past (Prélude baroque, Prélude fugassé); other pages open up a new perspective on Rossini, embracing a type of piano writing that was already fully Romantic. We are in the 1860s, some pieces echo Schubert, Chopin or Liszt.

You did not choose a historical instrument, but a modern Steinway…
While respecting the existing recordings that make use of period pianos, which I find splendid, I chose differently. Rossini was passionate about organology, he was looking for instruments that were more and more performing from a dynamic and timbral point of view, just think of the relationship he had with Cavaillé-Coll, who became great also thanks to Rossini. This attention to the development of instruments made me think that, perhaps, he would have been happy to have a Steinway prepared by Fabbrini: it is evident from the writing of many pieces.

This repertoire is also little played due to its extreme technical awkwardness, with writing that is not at all idiomatic: is that so?
There are difficulties of various kinds. The writing is crystalline, rich in polyphony, and at the same time there are high demands for virtuosity, with awkward leaps, awkward octaves filled with the third. He uses the techniques of Liszt and Thalberg (who frequented his house, and played there) but in an even more peculiar and uncomfortable way. It is easy to 'get notes dirty', you cannot play them at first sight, you have to study them carefully: the arrangement of the hands is peculiar. Something is reminiscent of Chopin: the 24 Riens, which may recall the 24 Préludes, contain all kinds of technical difficulties, as if they were etudes.

So, no similarities can be found between Rossini's piano writing and that of his contemporaries?
I've thought about it a lot, but it's difficult. It is a production 'all his own', even on a formal, stylistic and harmonic level: there are no harmonic revolutions, but a frequent use of enharmony and modulations in very few bars.

The Péchés coincide with almost 40 years of Rossini's operatic silence. How do you explain this? A reaction to the prevailing Romanticism or a consequence of his private depression and hypochondria?
Surely it is a combination of several factors. The illness had an influence, but Rossini was always a skilful calculator, ever since the days when he did his gambling accounts in the foyer of the San Carlo. So, sure, he no longer recognised the new trends in opera theatre and had become entrenched in himself; then, with Tell, he thought he had reached a climax in his production. But there was a calculating factor: he had an exclusive contract with the Paris theatres for which he had committed himself not to write in order to have a life annuity. And that certainly mattered: it was a calculated silence, forced by circumstances, and linked to the desire to make chamber music, which he had never tried in his life.

Speaking of chamber music: you collaborate with many prestigious musicians in this integral. Can you remember any of them?
Certainly at least Enrico Dindo, Massimo Quarta, Ugo Favaro, and many singers I met at the Accademia Rossiniana and who are now stars, such as Giuseppina Bridelli, Laura Giordano, Bruno Taddia, Lily Jørstad: it was wonderful to work with them in various ensembles, often with the Ars Cantica Choir conducted by Marco Berrini. It is a new Rossini, not the operatic one: these are Lieder pages, which you never hear live.

In concert, which other composers do you combine these Péchés with?
Sometimes I alternately combine Rossini and Chopin, and it works well; or together with Debussy and Liszt, because there are pieces - like the Marche - that seem Lisztian because of the abundance of jumps and octaves. Otherwise, I do monographic recitals, just Rossini.

And indeed, at the ICMA gala, you will play a Chopin piece! But if a pianist today wanted to play the Péchés, what is the state of the materials and sources?
The Péchés have been published by the Foundation in the Quaderni Rossiniani, but they are almost all out of print, and it is difficult to get them; there is a Ricordi volume with the 24 Riens and little else. I hope, and I am working on this, that a critical edition will come out: the Rossini Foundation could do it. The problem is then that the scores that exist today have some printing errors and they should all be revised.

Your commitment to Rossini fits in well with your career, which has always loved to seek out the roads less travelled in the repertoire…
True, I have always liked to find new authors and new music: it is a task for us musicians to do so. Parallel to Rossini, in recent years I have dealt with Castelnuovo-Tedesco (Piano Concertos, cello works with Dindo, Evangelion), with Clementi, who is certainly not unknown but not always on record (and I have recorded the Gradus ad parnassum, which had so far been absent from the discography). Now I am recording Vittorio Rieti's Concertos for piano and orchestra with the Orchestra Sinfonica di Milano, again for Naxos. And I also perform these composers in concert, although it's not always easy to convince artistic directors to move away from the mainstream repertoire: with Rossini it's always a great success, but generally the feedback from the public is always excellent.

Last question: on 21 April, you will play at the ICMA Gala in Wroclaw. What is your relationship with Poland?
I have played there many times, often in Kraków, also in Gdansk, but more with orchestra than in solo recital: I have done Chopin, Beethoven, but also one of the rarities I mentioned earlier, a Castelnuovo-Tedesco Concerto. And I can't wait to go back for the ICMA Gala!