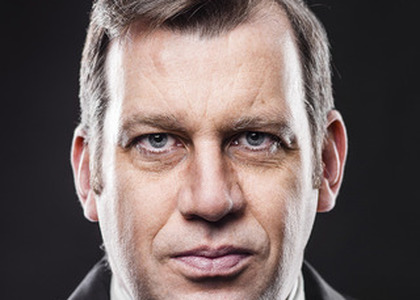 Interview with conductor Rumon Gamba
Monday, 10 April 2023 , ora 10.39

On Friday, April 7th, conductor Rumon Gamba returns to lead the National Radio Orchestra in a concert with compositions by Maurice Ravel and Edvard Grieg. This is the subject of the discussion that Ioana Șintea had with the British conductor Rumon Gamba.

To begin with, please tell us how it is to meet the musicians again and what is the working atmosphere like when you repeat a "hit" of classical music, such as Maurice Ravel's Bolero?
You have to be very careful with Ravel's "Bolero" because it involves many sensitive and difficult solo parts; you have to encourage the musicians to have their own vision of the performance but at the same time keep the boundaries of the general framework. So there is a lot of psychology involved here as well. We have to help the instrumentalists feel comfortable because these solo moments are extremely difficult. The hardest thing is to sing confined by such a rigorous rhythm of the percussion. It is something that we are not used to nowadays, for instance in a symphony there is more flexibility but here everything has to be strict.

What can we discover when we listen to this well-known work, though?
I think it's one of those works where you have to let yourself be carried away by the music, you can't get into the depth of it because, in essence, this "Bolero" is like a study you repeat. It is wonderful that for 15 minutes you can let yourself be carried away by the wave, by the music, not to think, but just feel.

The evening at Sala Radio will begin with another well-known work written by Ravel, it is the choreographic poem "La valse". I read at one point that when Ravel wrote this work he was affected by the years of World War I and the death of his mother. Can we feel this upheaval in Ravel's music?
Yes, absolutely! It is one of the most sentimental works written by Ravel. You can feel everything that was destroyed in the last century, Ravel imagined all the dramas of war in a typical waltz form. It is like a whirlwind of emotions mixing in the air, and in the end it is like an annihilation, a disappearance of the past. It is essentially a highly disturbing work.

Along with the two Ravel works, the audience will also be able to listen to Edvard Grieg's Concerto in A minor for piano and orchestra. How do you see this joining?
I have never experienced this association before. In fact, Grieg and Ravel are two composers who have colorful orchestral creations. Of course, the Grieg Concerto is a well-known work, but we should not be complacent with this aspect, but on the contrary, we should know that there is always something new to discover. You always find new meanings for if you approach works by Grieg you do it as if it were the first time. So we will present some colorful compositions to the audience.
Interview by Ioana Țintea
Translated by Cosmin-Ionuț Petriea,
University of Bucharest, Faculty of Foreign Languages and Literatures, MTTLC, year I
Corrected by Silvia Petrescu