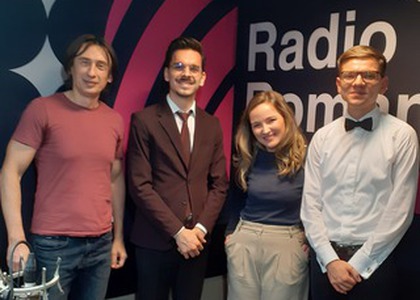 This week's guests at Perpetuum mobile, violinist Maria Marica, cellist Cornelius Zirbo and pianist Cadmiel Botac will be in dialogue with Gabriel Marica
Monday, 10 April 2023 , ora 11.00

Three guests, three young and talented musicians, who, not long from now, will be heard live on Radio România Muzical, for the broadcast of the concert from Sala Radio.

Welcome, Maria Marica, Cornelius Zirbo and Cadmiel Boțac!
It's good to see you!

Thank you for the invitation!
We must mention that Maria Marica is the winner of the "George Enescu" International Contest 2022, of the violin section, and Cornelius Zirbo and Cadmiel Boțac, among other prizes, are winners of thee "Musical Heirs of Romania" Scholarship in 2021 and 2020 (a Radio Romania Muzical project) and all three are laureates of the "New Hope Grand Prix" Competition from Cluj Napoca. Several concerts are held under this aegis. From what I understand, there are 10 of them.

How have you been welcomed so far where you have performed?
Cornelius Zirbo: This year, for all three of us, has been incredible. We felt very welcomed wherever we went. Each individual concert had something special, something personal. And yes, I think I can speak for everyone when I say that it feels really good to have this chance to hold this tour.

For these 10 concerts, can you tell me, Maria, how many have you prepared?
Maria Marica: I think quite a few. We indeed perform three times the Beethoven Triplet, which we also perform tonight (April 5 at Sala Radio), but we performed together with Cornelius the Brahms Double, Mendelssohn, Mozart. I think that each of us tried to find a repertoire that was as varied as possible and that suited him very well.
Cadmiel Boțac: In these ten concerts, I perform six works in addition to this Beethoven Triplet, Mozart Concerto, Beethoven Concerto No.3 for piano and orchestra, Tchaikovsky, Rachmaninov, Prokofiev … So we are glad to have this opportunity to develop this soloist side and of course we are very grateful for the trust that the philharmonics and the organizers offer us. It is a great chance for us that at our age we have so many concerts in Romania.

You are all very talented! I think you deserve all the recognition! And I think you work well together as a trio. Are you preparing something in this regard?
Maria Marica: We've known each other since childhood. I have dear memories with Cornelius, as well as with Cadmiel… in fact, I don't even know how long I've known them. We've known each other for so long and we've already performed quite a lot together. And no matter where we are in life, no matter how far apart we are, we still end up on stage together. We meet again and again and, because we enjoy performing together so much, we want to continue to meet on stage as often as possible.

At "Sala Radio", Maria,, you told me before this dialogue that you performed here once before, on June 1st, several years ago. And now, you are following in the footsteps of your teacher, David Grimal, who was here in the winter, performing with the same Radio Chamber Orchestra, but as both conductor and soloist. Cornelius and Cadmiel, you have already performed several times at Sala Radio, even together in the project "Heirs of the Romanian Musical," part of a tour. You have also made special recordings. So, you are at home! You have received the "Heirs of the Romanian Musical" Scholarship, and since the applications for the fourth edition have already been announced, what advice do you have for young artists? Has this scholarship helped you or not? What can you tell us?
Cadmiel Boțac: For me, winning this scholarship meant the opportunity to purchase a good instrument that I could practice on every day, so I can only encourage young musicians from Romania to apply for this scholarship because it is truly an opportunity not to be missed and a chance to be seen, to be known by important musicians in Romania. And, of course, a chance to receive this scholarship. I want to thank the organizers of this competition. If I am not mistaken, the Rotary Club Pipera is also involved. I can only encourage young musicians to apply for this scholarship because they will not regret it and will surely have much to gain from it.
Cornelius Zirbo: Yes, for me it was a very important step as well. Leaving aside the financial aspect and the scholarship itself, which everyone manages as they wish (to enroll in this program you must present a very well thought out and constructed development plan), for me, the greatest advantage was that there were important concerts that followed after this competition. I had the chance to go on a tour with Cadmiel, to play Rahmaninov's sonatas and the Liszt Sonata he performed. Also, I had the opportunity to open the "Transylvania" State Philharmonic season in 2021. And, after the recital at the Radio Concert Hall, I also received the invitation to perform with the National Radio Orchestra and had the concert on December 1st. So, all these concerts made a significant difference in my artistic journey.

Maria, even though you are not a laureate of the "Heirs of the Romanian Musical" Scholarship, you are the winner of the First Prize at the Enescu Competition. For you, what did this competition mean? Has it helped you in your career so far? Many say that competitions are something difficult or delicate to approach; they only represent a "snapshot" of your level at a certain moment and do not define you. For you, how was it?
Maria Marica: It's true that today there are so many competitions and so many winners that it's hard to even keep track of them, and winning a competition today doesn't mean what it meant 50 years ago, when winning a competition would guarantee your career. However, for me, the Enescu Competition was such a special experience, it was a moment that came after a lot of work and a pandemic during which I was barely on stage. So, it was a difficult moment when, instead of being on stage, I worked extremely hard, and changed a lot in my playing. And somehow, the Enescu Competition was the moment when I freed myself from all the negative pressure on me and regained the courage, confidence, and joy I had always had, of being on stage. So, it was a huge encouragement and, at the same time, it's an award that makes me more responsible; I mean, I know I have to live up to the expectations that the audience has, for example, from a winner of the Enescu Competition.

You were talking about the joy of being on stage. We hope that tonight we will all enjoy your joy of being on stage.
We return to Beethoven's Triple Concerto. Honestly, I saw a recording of you when you were younger, accompanied by the "Sigismund Toduță" High School Orchestra from Cluj Napoca, on a music website. You got along very well there, is that right?
Maria Marica: That's right.

So, this work is dear to you, you like it, it is a work from Beethoven's heroic period. We know that at that time he composed "Eroica" (the 3rd Symphony), and the "Razumovsky" Quartet. I recently listened to a recording with Anne Sophie Mutter, Yo Yo Ma, and Daniel Barenboim - I assume you are familiar with it too - with a heroic, energetic atmosphere. For you, what is this work like?
Maria Marica: I think it's a work from a very happy period in Beethoven's life. I believe there is a very sincere joy in his music from this period. And for me personally, it is a very special work because I have three older siblings - a brother and two sisters - who are a cellist, a pianist, and a violinist, and I was 3 or 4 years old when they played this concerto in Cluj. So, somehow, it's very connected to my childhood, and I am very happy not just to play it on stage, but to play it with two childhood friends of mine. It's a fantastic feeling not just to be alone on stage but to share the stage with people who are truly dear friends.

I saw there, in the video recording, even though you were younger than you are now, and you are still very young, you were supporting each other with your eyes. You gracefully offered each other entrance with a bow, which is extraordinary.
After this concert, Cadmiel, you will have an autograph session for your debut album - Beethoven-Chopin-Enescu, an album released by Casa Radio Publishing House, as a result of obtaining the "Heirs of the Romanian Musical" Scholarship. And you beautifully and, at the same time, enticingly say to music lovers: "I propose an interesting sound journey, through which to remind you of the beautiful moments of life, but also of moments of suffering, hardship, and sadness." What is this album like? Like life, right?
Cadmiel Boțac: That's right. I forgot to mention a very important thing. The fact that this album is a result of winning the "Heirs of the Romanian Musical'' Scholarship. So, one more reason for young musicians to apply for this scholarship. And indeed, the repertoire I chose represents the sum of my concerns during the time I studied in Cluj, at the Conservatory. And the three works, Beethoven's Appassionata Sonata op.57 (the next work after Beethoven's Triple), but especially Frederic Chopin's Second Sonata with the third part, the famous Funeral March, are works that cannot help but make you think more about the meaning of life, suffering... things that maybe we often avoid and don't want to discuss, but they are things that are part of our lives. And then, through music, I personally managed to understand them a little better and I hope that the audience and listeners, those who will listen to this CD, will be inspired by my interpretations. I hope and wish for that to happen.

We hope that as many people as possible will come to get an autograph on this album from you!
You have rehearsed with the Radio Chamber Orchestra, with Vlad Vizireanu. How do you get along? Have you collaborated with Vlad Vizireanu before?
Cornelius Zirbo: I haven't worked from this position before. As a cellist in the orchestra, I have worked before, it's not the first time. For me, it is a happy collaboration, also from the perspective that, I must mention, I am an instrumental artist in the Radio Chamber Orchestra. So, you can imagine what connotation this concert must have for me from the point of view of collaborating with Maria and Cadmiel, but also with the orchestra. I consider it a joyous collaboration, and all these rehearsals we've done have created what the audience will be able to listen to tonight. We believe we have reached a good level, and we are looking forward to playing for the audience.
Maria Marica: It's a collaboration I'm very happy about. I played with the Radio Chamber Orchestra many years ago, and I think things have changed quite a bit since then. I was glad to return and see a young and energetic orchestra. It's a great pleasure to play together, and I can't wait for the concert.
Cadmiel Boțac: For me, it's the first time I collaborate with conductor Vlad Vizireanu, and it's also a pleasant collaboration. I'm glad that we have the same musical ideas, the same way of understanding the work, and we can form a very good team.

We are expecting a very interesting concert this evening. Don't forget, starting at 7:00 PM, on Radio România Muzical, you will listen live from Sala Radio, the Radio Chamber Orchestra Concert featuring the three soloists here in our studio.
I want to ask you before I let you go, because I know you need to prepare for the concert. What's next on your agenda after tonight's concert? Do you have any plans?
Cornelius Zirbo: First of all, we have a tour to finish. There are still three more concerts as part of the "New Hope" Competition winners' tour. In addition to these three concerts, I will be performing with the Oradea State Philharmonic. I will play Dvorak's Concerto. And, in the summer, I will participate in a festival in France, where I will have the opportunity to perform with Yo Yo Ma.

Wonderful! We'll call you back to tell us about this extraordinary encounter.
Maria Marica: I'm going back to Germany tomorrow, where in the coming weeks I have some concerts dedicated to Vivaldi, which I'm very excited about, along with my classmates from Saarbrucken. Then, I'll return to Sibiu, where we'll perform Beethoven's Triple Concerto again. After that, I'll be playing in Rome and Prague. I'll return to Bucharest on May 31 and June 1, at the George Enescu Philharmonic, where I'll have the opportunity to play alongside my brother, which makes me very happy. He lives in the United States, and we haven't seen each other since before the pandemic, so not only are we reuniting, but we're reuniting on stage. And I'll be back in Bucharest again in the fall, for the George Enescu International Festival.
Cadmiel Boțac: For me, besides these three concerts we're holding as part of this tour, during this period, I'm participating in a competition organized by the University of Music and Arts in Vienna. At the moment, I've been admitted to the second stage, and I hope that next week I'll manage to be among the three finalists.

We're keeping our fingers crossed for you!
I wish you all the best of luck and hope to see you again soon here in the studio, to discuss other successes of yours!
Thank you!
Interview by Gabriel Marica
Translated by Ioana Negrea,
University of Bucharest, Faculty of Foreign Languages and Literatures, MTTLC, year II
Corrected by Silvia Petrescu