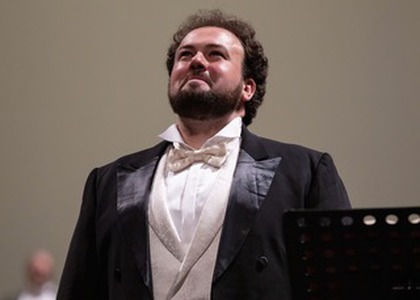 Interview with tenor Ștefan Pop
Monday, 10 April 2023 , ora 11.06

On April 6th and 8th, the world-renowned Romanian tenor, Ștefan Pop, sings at the Bucharest National Opera in Rigoletto by Giuseppe Verdi.

After a series of performances with the opera Tosca at the Opera in Hamburg, fresh returned back to the country at the Bucharest National Opera with Verdi's Rigoletto show, there are performances long awaited by the Bucharest audience. I think the Duke of Mantua is one of the roles you've played the most.
If we consider the fact that I debuted in 2011 in Seoul, it's been 13 years since I've been singing this role everywhere. Of course, I had the opportunity to sing with Leo Nucci many times. As you know, two years ago Placido Domingo conducted Rigoletto in Taormina and Rigoletto's role was played by Leo Nucci. I put more emphasis on each word, every syllable, every nuance actually written by Verdi in the score, all the more so as I can reveal to you that next season, at the Royal Opera House, I will have eight performances of Rigoletto, so I don't want to leave the Duke of Mantua's role out. I take on the challenge, every time: to be a nobler, purer, newer, braver probably, not that the duke doesn't have a lot of courage, but to be different every time, to have an extra fragrance, i guess that's the beauty after all.
Referring to the entire Verdian trilogy, I debuted with Traviata, I did Rigoletto work, and now Trovatore show will follow, not exactly next year, but in the fairly near future.
I come, indeed, from Hamburg, where I already sang a Tosca where it was wonderful and I'm glad about that. After Tosca I will return for a new production with Luiza Miller, so there will be new debuts. In June, for example, Don Carlo show at the Staatsoper in Berlin, after which, in the fall, I will debut Macbeth in Munich. Luiza Miller, again, in Hamburg after two seasons. Next year I will open the season, for example, at the Teatro del Opera in Rome, which this year has become exactly like the Scala Theater, meaning that they have set a date, November 27th will be the opening of the season, broadcast live on RAI5, RAI3, with maestro Michele Mariotti, with whom I sang Verdi's Requiem at the Teatro del Opera in Rome in February. Last year, in the Verdi festival, we had the opportunity to do two performances of the Requiem together, and it was a dream come true. I think the Verdi Requiem is the most complex work, totally different from the opera itself. For me it is the most sacred prayer and then to play it at Verdi's native country was a big thing and I can say that I had the most positive reviews.
I will also sing Simone Boccanegrain Rome. There are a lot of titles, of diverse repertoire, if I think that two weeks ago I was singing Norma in Bologna, a new successful production with maestro Morandi and after Rigoletto here in Bucharest I will go to Genoa where the same production is expected which will actually be broadcast on RAI5. Last year we had another broadcast on RAI5 with Marina Rebecca and the great David Livermore, it is known that more recently at Scala he is the top, a special production by Norma, this time at Bellini's native land in Catania. If I start listing them all, I think we need an hour just to talk about what I've done and what I'm going to do. It's difficult, but I'm not giving up. I come home too, because that's what it's all about after all.

You have a fantastic career. But tell me, how do you feel on the Bucharest opera stage, in this Rigolettoentertaiment, in this staging? I assume you have done many adjustments, some being more classic, some are more modern.
All of them are different. The only thing that makes me smile every time is when I hear the phrase "la spadas'eidormevaportamigiu", meaning to come and take the duke's sword. This is not the case here, because the duke has a pistol here. So what can I tell you, I'm not necessarily a convinced classicist, but I respect the score completely. Yes, the staging is beautiful, the show is beautiful. It is a show, I would call it, of cinema. A lot of work was done on it for the premiere. I remember, many years ago. Certainly, every detail made a difference. Now, because, as you know, the great success Phantom of the Opera, kept the stage busy, I haven't had the opportunity to rehearse anything on stage, everything will be a premier also for me, if we talk about the scenography. Yes, I directed, but without scenography. So I'm going to have fun, as I always say, but it won't be a problem, because in the end, the music is the most important before everything, I mean, for me, I've said it before and it remains the fact that the score is the norm.

Will there be four shows?
There will be four performances. I sing on the 6th and 8th of April and I really invite everyone to come to the shows, because Florin Guzgă is singing on the 7th and 9th, so you have two exceptional tenors. If there are still available tickets, we are waiting for you all. I can tell you only one thing, I will sing on the 6th of April, exactly as I will sing at the Royal Opera House, I don't make any difference. If I still came all the way to Bucharest, I'm really going to give my best, plus it's the first time I'm singing Rigoletto in Bucharest. I also sang Rigoletto in Iași, last year, where it was a smashing success and I want to thank them in this way, because in fact, I only sang Rigoletto once in Cluj, a show in Iași and here I am, in end, in Bucharest. I know, I was supposed to come last year, I had a cold, unfortunately. Once every few years this thing also happens, but now I'm here, I don't have a cold, I have every reason to do the best show of this season with Rigoletto, and I really want to. That's why I actually came, because there are so many projects outside and I didn't really have time to put Rigoletto in any season. Now, in Norma, this debut following Don Carlo, Tosca, last year I sang three titles at the Royal Opera House, I debuted Tosca, alongside the one and only Angela Gheorghiu. I will always carry this Tosca in my soul. After that I was recalled to sing Attila and in the autumn I had a series of Bohemia. Next year I will come back again. In January I will be again for Boema, with Angela Gheorghiu at the Royal Opera House. There are many, quite connected, sewn with thread, but studing is the most important. And even now when I was in Bologna, from the three-week rehearsal period, I took three days off, asked permission from the theater and went to Parma to study with my pianist, because without study you can't do nothing.

Will you have in Gilda, Veronica Anușcaas your partner ?
..with whom I sang a Traviata three years ago, if I'm not mistaken. We get along very well. Unfortunately, Rigoletto is such a complex opera, but it is written a little individually for each one, if we can take it that way, in part. Beside Maestro Morandi, for example, when I did Rigoletto with him at the Teatro San Carlo in Naples, alongside Nadine Sierra, that we're still talking about Gilda, in 2014, if I'm not mistaken, he said something very interesting: focus very well in the following way - in the first act, Gilda, as energy, in the second act, Rigoletto and in the third act, the Duke of Mantua. This already says that the role of the Duke of Mantua is one of the most difficult tenor roles, because you start singing from the first. You have arias, cablet, plus duet, plus quartet, in fact there are seven arias. It is said that the duke's role is nothing more than a tenor show. I look forward to it. I'm sorry we only have one duet together, but what to do. With Rigoletto, the duke only has the scene from the beginning, we don't even have a duet together. It's quite an individual work, that's why it's difficult.

You have performed in large opera theaters so far. Which theater would you like to perform in and haven't made it yet?
The theater I want to go to is of course the Metropolitan Opera, because I haven't been to America yet. There was a discussion at one point, it was not possible, I was busy. Let's hope that in the future, all when God arranges them, because at the end of the day, we all have a destiny and I believe that if you are honest and do your best, that is in our case, to study, until finally, destiny is drawn, it will also end up at the Metropolitan Opera. I want to tell you that there are many theaters in Europe where I understand that the level is much higher nowadays. I don't know, I haven't been to America yet, so America is an unfulfilled dream, if you want to call it that. But I can tell you a secret, about America, last year I recorded a CD of Tosca, which is to be released soon with Penthaton, a company from America, with whom, in August, in Marseille, I will record my first CD solo that I dedicate to Verdi. So the duke will be on this CD too.

This album is interesting, I hope we can get it, to broadcast it on Radio România Muzical.
Dearly. Let's hope.

Because you told me which theater you would like to perform in, which theater did you enjoy performing in the most? Where was the best acoustic, to say like this ?
Beside the acoustics, here is a very long story, because, you know how, the career is, how to say, systematically, in pieces, because at the end of the day you can't compare Ștefan Pop that we have today with Ștefan Pop of 2010. Clearly , I felt very good in many theaters that are special for me. It's definitely the Teatro San Carlo in Naples, where I debuted Norma alongside MariellaDevia, because Norma keeps coming up, plus the theater La Fenice di Venetia, where Mariella gave Addioalle scene, three years ago and that's how it was transmitted. I mean, in three years, I will be the only tenor in Italy who is in all the transmissions of Norma. Interesting, a Romanian, not an Italian and otherwise, recently, one of my favorite theaters is definitely Berlin, because in Berlin the acoustics are incredible and in London, although it seems much bigger, I felt very good, I didn't have any kind of problem. I was lucky, I repeat, to be with Angela Gheorghiu and Marco Armiliato, because the most important is the conductor. Making music is very important to me at the moment. I'm not interested in acutes, arias, as I was in the beginning, more childish, more dreamy, no, because in fact, music is the beauty, the music itself. Every note deserves its value, as Maestro Santi used to say. And then I prefer theaters where work is done on the first level, where the acoustics are favorable, the audience is extraordinary. For example, I spent almost two months in Berlin and sang 12 shows, 7 with Boema and 5 with Madama Butterfly, which almost every show was a standing ovation, I say almost because I don't remember any of them without a standing ovation.

It will definitely be in Bucharest as well.
I hope so. Dearly.

You have told me about a number of projects with many roles. What role would you like to play that you haven't played before, that you didn't had the chance to?
I couldn't say I didn't sing. For example, I would really like to do The Elixir of Love again, and I think in Hamburg, because Tosca was such a success, I discussed with my agents and the director there, that the famous production, which I did - actually in 2011, if I'm not mistaken, and it's such a traditional production, I remember it very dearfully. I sang in Pavarotti's costume. I would like to recreate that Elixirshow, it would give me incredible satisfaction.
Otherwise in the future it will be Verdi, probably Il Trovatore. I look forward to it with great pleasure. But I'm not thinking about Il trovatore, until Don Carlo doesn't turns out well, although I've already been studying it for two years, in the future I have to sing it in Dresden, in Berlin, systematically. I don't make any difference. Even if I sing Macbeth in Munich, that doesn't mean the Duke of Mantua isn't just as important. For me every note counts, that is, it's about the energy of the singer. If you go and sacrifice your private life to be in a city, in a hotel, in an apartment and go to rehearsals, the audience that comes and pays for a ticket deserves everything good, and I think that's the more important. Precisely because we never know what life has for us and that's why I prefer to give my best every time.

Among the partners, apart from Angela Gheorghiu of course, with whom you sang, who has stayed in your heart the most?
Apart from Angela Gheorghiu and Mariella Devia, Marina Rebecca was a magnificent experience with whom I worked. I am looking forward to seeing Sonia Yoncheva again next year to do Madama Butterfly also at the Staatsoper Berlin. Together we have five shows. I like honest, quality people who really sacrifice themselves for this career.

Which conductor did you learn the most from?
Without any doubts, I learned the most from the master NelloSanti, I worked on Norma at the Teatro San Carlo, after that in Venice, Traviata, Rigoletto and yes, I could say that I took the most knowledge from him. At the same time I had to learn from Daniel Oren, for example, or not to mention, if we are strictly talking about the Duke of Mantua from Master Pappano, because last summer or two years ago, I went to Berlin and worked for four days the role of the Duke of Mantua, which I will sing in the fall, at the Royal House, precisely because Maestro Pappano was very pleased.
Interview by Jeanine Costache
Translated by Denisa Cincă,
University of Bucharest, Faculty of Foreign Languages and Literatures, MTTLC, year I
Corrected by Silvia Petrescu