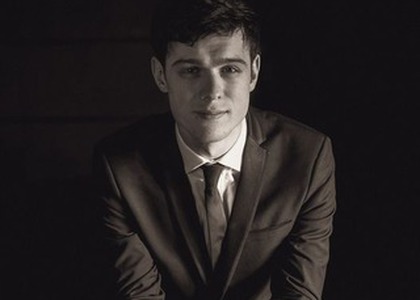 Interview with pianist George Todică
Tuesday, 2 May 2023 , ora 10.02

Pianist George Todică, awarded with the 2nd Prize at the "George Enescu" International Competition, edition ended in 2022, will perform on Saturday, May 13th, at 19:00, a recital on the main stage of the Romanian Athenaeum. The event is organized by Radio România Muzical and Rotary Club Pipera as part of the project "Heirs of Musical Romania" and will be broadcast live by our radio station.

George Todică, first of all I would like to talk about your professional career. You started studying piano at the age of 6, at 8 you participated in your first competition, you made your debut with the Orchestra Moldova in Iași at the age of 14, you are a graduate of the Royal Conservatoire of Scotland and you obtained your Artist Diploma at the Royal College of Music in London in 2019. What was the defining moment in your musical training?
I don't know if I can put my finger on a particular moment. Possibly at the age of 6, when I started piano studies. My brothers played piano when I was little, so I was drawn to the instrument very early on, but from my first piano lessons, I decided in my 6-7 year old mind, yeah, that's pretty much what I want to do. That thought influenced my life. I don't think there was a point where I thought I could do anything else. Sure there were many times when I thought about whether it was worth breaking into seven, but always the answer was yes, it was.

I know that when you were 17 you went on a scholarship to Scotland.
Yeah, I did. That was one of the big moments, to change the trajectory of where I would be based and continue my studies. It actually started as an exchange, studying for a year in Scotland, but in that year in Scotland I discovered the UK and within the next six months I applied to the Glasgow Conservatoire, got accepted and realised OK, here we go.

Of all the mentors you've had, who has been the one who has decisively influenced your musical journey so far?
I've been very lucky, because I've had excellent mentors from the very beginning. I started piano with Mrs. Silvia Pânzariu from Iași, she was my mentor in the first years, but I also studied with her husband Marin and her daughters who are very talented pianists; after that, also with Ioana's husband, Andreei, who was my last teacher in Iași, and they gave me a foundation in piano technique. I still have moments when I remember lessons from 11-12 years old and I think how right they were to have guided me in certain directions. In Romania, another great influence was Maestro Iulian Arcadi Trofin, who guided me from the age of 12-13. I studied with him and the Pânzariu family in parallel. In a way, he opened me to the world outside Romania. I toured Italy and America, thanks to his artistic strengths. I met a lot of pianists with whom I grew up and we are still friends and they are pianists, trained now, I'm talking about Daniel Ciobanu and Andrei Gologan, with whom I played together at the age of 10, and this influenced me a lot in my career and in my career. After that, of course, when I came to England, all the teachers I went through, all of them had a pretty big stamp in the training and in the colour that I have now when I play. Every time I play the piano there are elements of my playing that I can attribute to certain teachers and that's pretty much all of them. From all of them I had something to learn. I can't say that I've had a teacher or a mentor from whom I've taken nothing. I can say that I am very lucky.

Being a musician, especially a concert pianist involves a lot of joys, achievements, successes, but also sacrifices. Were there times when you had to give up something dear to your heart to follow this path?
I don't know if there were times when I had to sacrifice literally, although growing up, I was always somewhat envious of my other friends who would go and play outside in the summer and stay for hours and I would stay home for pleasure. The piano in particular is a very solitary instrument and you have to be at peace with the thought of being alone in a room for six hours a day. I enjoyed that, but I always regretted a little that I didn't get to socialize more and experience some of the childish moments that other kids had.

Coming back to the event on the 13th of May, I would like to ask you how you feel about this recital and your return to Romania on the stage of the Athenaeum, where you were awarded the 2nd Prize at the "George Enescu" International Competition in 2022?
It is an absolute honour to return to the Athenaeum. It will be the second time I will play in Bucharest, in fact. The Enescu Competition was my very debut in Bucharest and especially my debut at the Athenaeum, so it was a wave of emotions that I have never felt like this before. I guess I will feel it again when I return in May, so I come back with great joy and I am honoured to have been invited and to be able to meet the country and the Romanian audience again.
Interview by Ioana Țintea
Translated by Andreea Iulia Ciucă,
University of Bucharest, Faculty of Foreign Languages and Literatures, MTTLC, year I
Corrected by Silvia Petrescu