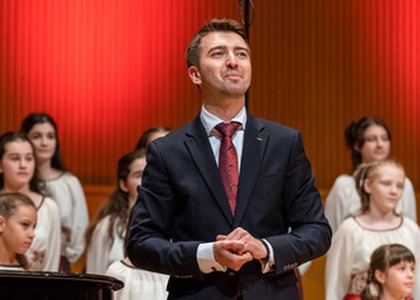 Interview with Răzvan Rădos, the conductor of the Radio Children's Choir
Monday, 8 May 2023 , ora 10.40

"A night in a spotlight" is the name of the concert that will be held by the Radio Children's Choir on Sunday, May 7th, on the stage of the Radio Hall. We will find out more details about this event from Răzvan Rădos, the conductor of the Radio Children's Choir, in a dialog with Ioana Tintintea.

Răzvan Rădos, A night in the Spotlight is the title of the concert that the Radio Children's Choir proposes on Sunday, May 7th. What is the concept behind this event and what will we be able to listen to?
The concept brings to the audience famous titles from the pop and rock genres. This has delighted the children a lot, and we believe the audience will like it a lot.

Along with the Radio Children's Choir, the members of the Boys' Ensemble of the Radio Children's Choir, founded in 2022, will also perform on stage. Will there be other special guests?
They will be. We are talking about three young people of the same age with the older members of the choir, somewhere at 15 years old, and we are talking about Robert Ispasoiu on percussion, Ian Zaharia on electric guitar and Bogdan Dinu (our colleague from the choir) on bass. It is so pleasant that there will be only young people on stage and, of course, me and my colleague Magdalena Faur, the pianist of the Radio Children's Choir!

Because we talk about children, how do they perceive the emotions of a concert and the responsibility of preparing an event?
It is known that the Radio Children's Choir has a 78-year-old method of preparing these performances. It has, of course, been improved over the decades, and for this concert, in particular, the choir needed some changes, including in terms of vocal broadcast or stage presence. But that's what kids really liked because they love challenges.

After the concert at the Radio Hall, what does the agenda of the Radio Children's Choir include?
On May 8th, we are invited to the Bucharest National Opera, to the Awards Gala of the Union of Composers and Musicologistsin Romania, and then to make some special recordings in the Radio Studios. Then we prepare the Third Symphony of Mahler. This program will be performed at the Radio Hall alongside the National Radio Orchestra and the Academic Radio Choir at the end of June.
Interview by Ioana Țintea
Translated by Bogdan-Nicolae Tănăsescu,
University of Bucharest, Faculty of Foreign Languages and Literatures, MTTLC, year I
Corrected by Silvia Petrescu