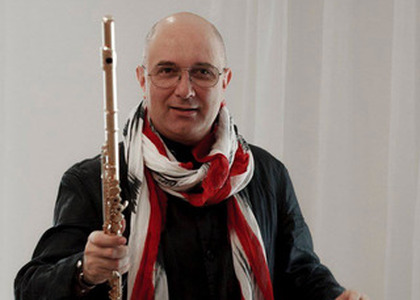 "Beautiful minds"- Interview with Ion Bogdan Stefănescu
Monday, 15 May 2023 , ora 10.31

We are talking to Ion BogdanȘtefănescu at Beautiful minds. We are trying to enter the mind of another famous Romanian musician, probably the most famous Romanian flautist, not only now, but for decades. We know him as a performer, of course, a soloist, a passionate promoter of modern music, a member of chamber ensembles, obviously a teacher and, lately, as a much more intense lover of literature (because you are a poet, you can be seen in recitals in this double posture). So, you have the vocation of expression both through music and through words. The topic of our discussion is quite precise: how do you get to be successful, to be respected in this field, to become a personality of the classical scene? And we are thinking both about listeners who are not necessarily musicians, but also about those who study music and want to follow this path.
I think that first of all the scaffolding of a career is sedimented over time and this scaffolding certainly means education, a good education. What the youth, obsessed with speed and a quick response to the impulse they send out into the ether, should know is that the worst thing in this long process of education is to skip certain stages of education. Because this leap will surely have repercussions on their artistic future. You have to assimilate things at the right time, at the right age. You won't be able to go back, let's say, to a repertoire... or let's refer to literature, what you had to read at a high school age or even earlier, in middle school, if you didn't then assimilate that age-appropriate literature , there remains a gap, practically, in your education. The same thing happens with the repertoire in the musical field. I observe young people, even very young, between 10-13 years old, who can sing truly spectacular concerts, Nielsen or Ibert; this problem must be pointed out, because even if there are children who have certain abilities and stand out clearly from the rest of their peers, if they are somehow forced in this way, they will suffer later, because their minds and souls are not prepared for such information. However technically skilled they may be. That's why I think that everything is done at the right age. These concertos should be played starting at the age of 23-25 in order to have a certain artistic maturity for the text. Coming back to your question, education is essential, it is actually a lifelong process. This is again something that young people need to know, not to reach a moment of self-sufficiency in which they think that they have found out absolutely everything and that they have done absolutely everything and that point remains the benchmark. There is always an upsurge in art and interpretation. So this climb must be well, well controlled. Each stage, each step, needs to be well settled, so that as the evolution becomes more and more obvious, it reveals itself through the gesture of interpretation.

Just now I was thinking that you are an argument against the idea of self-sufficiency by everything that I have seen you do in the last 20 years, since you were already famous. What retorts explain this rejection of self-sufficiency? Of course it's also about an inner need, but it's also about character, I think. What is this all about?
Yes, the observation is perfectly true, but I strongly believe that character is also honed. So education also supports your words. Simply, the moment you have a proper education, you also have good manners, you also have understanding for the person next to you. Education also gives you the power to be continuously curious. Or curiosity is, in my opinion, in art, the prerogative of progress. The more curious you are, the more you want to know, the more your life beautifies, enriches, and most importantly, you never have a limit. Routine does not take over your soul, it is essential to maintain a career. Look, we're reaching the top of the mountain right now. In order to keep a career and for it to be constant, elements that give you this lightness and freedom to express yourself and constancy are imperatively necessary. First of all, this curiosity that seems to push you all the time from behind to do things and not to demonstrate something. Your career or what you do, your artistic gesture, in my opinion, should not turn into a job. The job already means routine, to do the same thing, obstinately, precisely, if possible every day. Or this is where the beauty that we constantly face comes into play, because that's what art does. Art beautifies your soul as well as your mind. And then, discovering extraordinary things all the time and how to do that, especially in interpretation, you have to associate yourself with people at least as good as you, if not much better, to lift you up all the time, to raise the bar . It is essential not to accept and wish to be the center of the earth, that's what self-sufficiency does, and the rest doesn't matter, the important thing is that it serves you to show your skill. No, they all have to be at least as good. After all, you have to tend that any appearance to be good, very good, nothing less. You are not allowed to lower this bar. You must always strive for more, there must be a hunger for culture and a hunger not for perfection, but for the most artistic expression possible, because in my opinion, perfection in art does not exist. It's a mistake, and I see it in a lot of young people, to aim for perfection in your artistic gesture, because you lose exactly the essential side of art, the beauty.
Interview made by Ștefan Costache
Translated by Denisa-Elena Cincă,
University of Bucharest, Faculty of Foreign Languages and Literatures, MTTLC, year I
Corrected by Silvia Petrescu