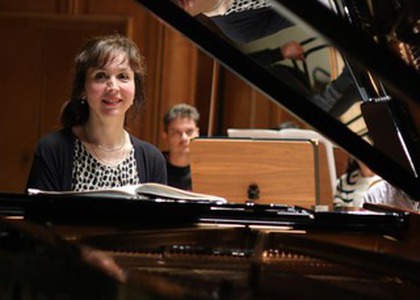 Interview with pianist Luiza Borac
Monday, 15 May 2023 , ora 10.35

The pianist Luiza Borac will perform today, May 12th, on the stage of Radio Hall, alongside the National Radio Orchestra. On this occasion, the interpreter offered us more details during a dialogue with Ioana Țintea.

Dear Madam Luiza Borac, how do you feel about going back on the stage of Radio Hall and how would you describe your collaboration with the National Radio Orchestra musicians?
I feel extremely honoured and truly delighted. There have been precisely 4 yearssince our last collaboration; it was in 2019 and in May exactly, when I sang together with the National Radio Orchestra and the conductor Rossen Gergov at the world premiere of the Piano and orchestra concert by George Enescu. It was a unique moment and, after all these difficult years, it is a true wonder to be able to find each other again within the world of music. This time, together with a double anniversary - Royalty Day, on one hand, and the composer Sergei Rachmaninoff, on the other, who is being celebrated all over the worldsince 150 years have passed since his birth.

You will be interpreting the solo score of Sergei Rachmaninoff's Piano Concerto No. 3 in D minor in the Rachmaninoff Year. What does the author's acoustic portrait look like in your eyes?
I must admit that I find myself on the same wavelength as the composer himself. It was his favourite work and, at the end of today's rehearsal, we reached the consensus that it was our favourite concert too. It is extraordinary music; it is a unique language. A little bit of a historical trip: this concert was performed for the first time in 1909, together with the New York Philharmonic. He arrived there on a ship and he was rehearing on a mute keyboard. This work possessed such extraordinary language, it so unique and novel, unlike the No. 2 Concerto, which had been successful as well. The reaction was slightlyhesitant, since it was putting forth elements of extraordinary novelty. A year later, this concert was performed under conductor Gustav Mahler's guidance. Sergei Rachmaninoff was extremely pleased with Mahler's conducting of his concert. Impressive historical references... We are delighted that, after so many years that have passed since these moments, we are also able to bring this extraordinary concert back into the soul of the audience, and back into our own too. For me, it was an exquisite experience. I have just finished a series of eight concerts together with the Gewandhaus Orchestra and the ballet ensemble. These have been some exceptional moments that managed to move me, and of course, through this music, I hope that I will be able to replicate them further.

It is a concert that you performed on other occasions as well. Are you still able to find new meanings within this opus?
Yes, every time, in every combination… each orchestra has its own sensitivity. The National Radio Orchestra left me impressed during today's rehearsal. It was a truly emotional atmosphere during the rehearsals and it made me feel an extreme rush of happiness. With every conductor, we always find new meanings. Conductor Antonio Mendez is a conductor possessing sensitivity that is out of this world. He gets close to every sound and no nuance, regardless of its importance, evades his gaze. We are on the same wavelength. That is how I feel.

During an interview with our station from last year, you were telling us about the role of the interpreter as a messenger, an ambassador of the composer. What do you think is the message that Rachmaninoff wished to convey through this Concert?
I believe that it was an exceptional emotion! The things that have been said about this concert, that you can distinguish Russian themes… the originality lies in the fact that these themes sounded like an old Russian legend, but there has been no quotation from Russian folklore. It is his personal language and I believe that the originality of this concert is brimming with emotion and debonair happiness, unlike his No 2. Concerto, which is comprised of somehow heavy moments, this concert ends in a bright and luminous moment and I think that this was his message. After all, an exquisite brightness and happiness.

Credit photo: Barcan Photography
Interview by Ioana Țintea
Translated by Adelina-Maria Mănăilescu,
University of Bucharest, Faculty of Foreign Languages and Literatures, MTTLC, year I
Corrected by Silvia Petrescu