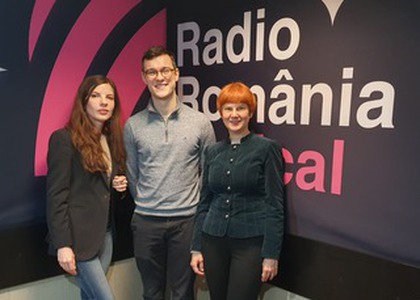 George Todică and Cristina Comandașu – guests invited at Musica viva
Monday, 15 May 2023 , ora 10.44

This morning's guests in the Radio România Muzical studio are pianist George Todică, the protagonist of the recital that our station and the Rotary Club Pipera are organizing tomorrow evening in the Great Hall of the Romanian Atheneum and Cristina Comandașu, the manager of Radio România Muzical, the initiator and soul of the project "Heirs of Musical Romania".
Tomorrow's recital is certainly one not to be missed, but before arguing this statement, I would like to mention that the pianist George Todică has now come to the studio directly from Iași. I understand he just left his suitcase at home and then came to us, so we're very happy that he's giving us this opportunity.
Last night, in Iași, at Balș House, there was a recital in preview of the one that we will have at the Romanian Athenaeum tomorrow evening; a recital, I think, full of meaning because the pianist was born there - let's also say that he has been living in the UK for over 10 years.
How was it last night in Iași? We'd like your warm impressions!
George Todică: It was really an incredible experience! The hall was full not only full of friends, but also of new audience who were curious to meet me and hear me and I had a really good time.

So you're looking forward to your next concert in Bucharest. It will be your first appearance on Romanian Athenaeum after the Enescu Competition, won't it?
George Todică: Yes, the first and therefore the second in total.

And the first big recital, with a large audience that is certainly waiting for you there. With what are you looking forward to this moment?
George Todică: Honestly, I can't wait to get back on that magnificent stage and give pretty much everything I've got. I have in my heart. The experience at the Enescu Competition was really special, especially because it was my first visit to the Athenaeum and I'm really looking forward to coming back. I was looking forward to this opportunity for a long time.

I would ask you to tell us a little about the programme you have chosen. It's a programme of hour program that will run without a break. So, not very long, but very substantial and stylistically varied.
George Todică: I try to create piano programs made from pieces I love. I try to play Enescu whenever I can on stage. I wanted to experiment a bit with the programme. Usually it's either a piece from the suite or the whole suite, but I decided to cut the bourree at the end and go into a different pavan. Usually the suite gets more and more intimate and the bourree at the end is a wake-up call... and I decided to stay a little longer in the fantasy with another pavaná, which takes us into this world as a combination of medieval and romantic that Rahmaninov also uses in his Variations after Corelli.

You said something about tradition as a link between the pieces in this recital (I've also read an interview you gave to one of your colleagues at Radio România Muzical). Can you elaborate on this aspect?
George Todică: Maybe because I am out of the country, I care a lot about tradition and culture. Maybe that's why I'm attracted by these pieces that combine tradition with modernity, in a way.

Your work in the UK is very rich. I'd like you to tell us a bit about what's happening there.
George Todică: There's a lot going on, and I'm really looking forward to it. At the moment, I live in London and have a wide variety of activities. I don't play just solo piano, although solo piano is a big part of it, but I play a lot of chamber music with a trio. I play with my wife, who is a singer. I'm going to create a chamber music festival in the summer, where we will promote female composers. Yes, the artistic activity in London is really interesting.

There's a lot going on, for sure.
Cristina Comandașu, thank you for being with us today. You are the initiator of this important project, "Heirs of Musical Romania", which has been running since 2018 and has already had over 20 recitals and concerts. Lately, an important side has been added to it, the "Heirs of Musical Romania" Scholarship. I would like to ask you to tell us about the significance of this project!
Cristina Comandașu: The idea started very simply. We notice that there is already a whole generation of young Romanian musicians who are making an international career but are not known at home because they studied abroad (some of them even started with high school studies, not just university ones) and, obviously, launched themselves abroad. They remain Romanians, as does George Todică, and they know that this patriotic feeling is very present in their souls. Singing at home, in Romania, is one of the things that moves them deeply. I see this behind the scenes at every musical event I organise. And, moreover, I think they are among the best ambassadors Romania has at the moment. So it was only fitting that they should come and play in Bucharest.
We started in 2018, as a Radio România Muzical project for the Centenary of Greater Romania, but since there was this important financial support from the Rotary Club Pipera to which Artexim - the organizer of the "George Enescu" Festival and Competition - has been added, starting this year. In fact, we have come close to 30 organized events, resulting in recordings that were also sent to the European Radio Union, thus bringing to the attention of the whole European radio world these exceptional young people we still have.
Two albums have been published by the "Casa Radio" Publishing House , containing events from these recitals. There was also a recital-event in Brussels last year, bringing these names to an international stage for the first time, not just here in Bucharest.
And we also have this scholarship that was set up in 2020, worth 4000 euros. The scholarship is aimed at the youngest of the young, between 16 and 24, those who need to take off in this world and who really need support at that moment. The scholarship is not just about money, it's also about professional avatars - invitations to concerts and recitals, special recordings made here, everything we can do to support these young people in a very difficult role they have at the moment, because making classical music today is a risky profession.

I would also like to ask pianist George Todică about his extra-musical passions. What do you like to do besides playing the piano and studying, of course?
George Todică: I have a rather boring answer, because there is very little time left, not only because I spend a lot of time playing the piano, but I spend a lot of time researching, getting interested and reading about music, about music literature, about art... everything that can influence my music. And that's pretty much how I spend most of my time. When I need a little peace and quiet... I love plants - I don't know why exactly, I think I get that from my parents - and I have a little garden that I tend for half an hour, an hour every day. And that brings me calm.

In terms of piano repertoire, do you have any particular preferences or directions, musical styles that you feel closer to?
George Todică: Preferences change quite often. I'm attracted to colour, in general. that's why I love, for example, Scarlatti, because he wrote over 500 sonatas that are like musical candies. And that's why tomorrow night's programme. Although it has tradition as a theme, in fact, the theme in all my concerts is colour. I try to bring a kind of bouquet of sounds into the concert hall.

And speaking about your passion for chamber music and this other direction you are promoting in your career, you were telling us about your next recital, which will be a chamber music recital, and I would like you to tell us more about it. Where will it take place?
George Todică: The next concert will be in London at the Schubert Music Society and I will perform it with my wife who is a soprano. We will play songs for piano and voice by Schubert, by Strauss, by Grieg (even in Norwegian) and I will also play some Schumann on solo piano.

What's it like to collaborate on stage and study together with your soulmate?
George Todică: It's really something unique. We started as friends and the music eventually drew us together. I had really gotten to a point where I was thinking do I like collaborating with singers - at least young singers can be more difficult, but with her it was a different kind of fusion and it continued beyond the music.

Very beautiful this story!
George Todică, I'd like to come back to tomorrow night's recital and I'd ask you to make an invitation for the Bucharest audience.
George Todică: Of course, I know it's the White Night of Museums and I think the recital would be a perfect fit for an evening of culture and colour, in fact, of light. The recital will be tomorrow night at 7.00 at the Athenaeum and I think it could kick off a wonderful evening.

Surely, the same beautiful invitation was made by Cristina Comandașu yesterday on facebook, who also seasoned your recital and the Night of Museums with a dinner. So, it would indeed be a very nice weekend evening.
Cristina, please complete this invitation!
Cristina Comandașu: I think that going to a concert and integrating classical music in this way into our lives in a mainstream way is an important thing, because they really see it and I practice it. You go to a concert... it's not accidental to know that it's designed to last about an hour, an hour and a half maximum, depending on how long we stretch out with breaks, encores, introductions, etc.
I'd like to stress that I'm keen to present these recitals because I think it's very important for today's audiences, especially young audiences, to be able to describe a little bit of what's happening on stage through words. So, after such a beautiful evening, which is certainly supported by a musician of great quality... to tell you the truth, I was in the hall at the Enescu Competition final and, for me, the winner was actually George Todică. I would have chosen him for the first prize. I found him much more convincing as an artist, and what matters in music, first of all, I think, is to be artists, not necessarily to tackle some technically difficult scores that we may or may not have mastered. That's why I also thought of including him in this project right away, because this project really only had exceptional people in it, who later on and still confirmed their quality.
So, yes, come to the Athenaeum at 7 o'clock. Tickets are still available on the "George Enescu" Philharmonic website. And then have dinner at one of the restaurants around the Athenaeum and continue with the Night of Museums in the centre of the capital. I think it's a great idea and a way to celebrate what I believe is still human in us in a world of artificial intelligence and such bad news coming from everywhere.

The recital is not exclusively for a Bucharest audience. You can of course listen to it live on Radio România Muzical and online on our website romania-muzical.ro. So we invite you, even if you are not in Bucharest, to listen to pianist George Todică.
Interview by Andreea Kiseleff
Translated by Andreea Iulia Ciucă,
University of Bucharest, Faculty of Foreign Languages and Literatures, MTTLC, year I
Corrected by Silvia Petrescu