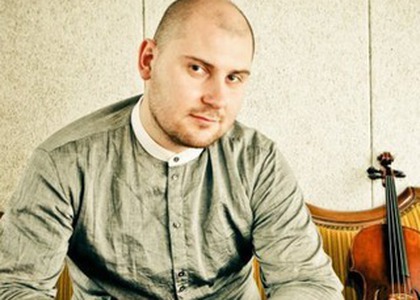 Interview with violist Cristian Andriș
Thursday, 18 May 2023 , ora 10.18

During this period, the first edition of the 4 Seasons International Tour conducted by the Romanian Chamber Orchestra takes place, which brings chamber music to the fore in the interpretation of some of the most valuable Romanian musicians who lives in the country and also from abroad. We learn more information from violist Cristian Andriș, artistic director of the Romanian Chamber Orchestra, in a dialogue with Ioana Țintea.

Cristian Andriș, you launch a new component of the Romanian Chamber Orchestra project, namely, chamber music performed in a more restricted format by Romanian musicians from our country and also from abroad. Thus, between May 13th-23rd, the Spring edition of the 4 Seasons international tour is held. What exactly is it about and what is the idea of this tour?
First of all, in 2019 when we launched the Romanian Chamber Orchestra project, we wanted to go all over the world with this orchestra to present Romanian musicians from the country and from the diaspora who work in the best ensembles in Europe and in the world. We noticed, however, that this orchestral formula does not have the ability to be present in all the locations where we would have wanted to go, and due to this fact we also thought of a chamber music component through which we would be much more flexible, but the message we send remains the same. Thus we can go to smaller concert halls where this orchestral formula represents our motto by which we say that Romanian musicians and Romanian culture are some of the most important engines for Romania to promote itself as a country.

Who are the musicians who will take part in this first tour and how did they get the invitation to participate in these events?
We have three distinct formulas. In the first formula, which will perform in Rome, we have Maria Marica, winner of the 1st prize at the 2022 George Enescu international competition, Andreea Octaviano Cogima, who is in Zurich, Mihai Cocea, who is first violist at the Brussels Philharmonic and Gabriel Faur , who is principal cellist in the symphony orchestra in Bern, Switzerland. In Madrid, we are joined by Liviu Morna, who is assistant concertmaster at the OrquestraSimfònica del Gran Teatre del Liceu in Barcelona from Barcelona, Cristina Alecu from Valladolid, I will be on viola with Mihai Cocea, who also performs in Madrid, and on the cello, Dragoș Bălan, first cellist from the Madrid Symphony Orchestra and Gabriel Faur, who will also perform in Rome, and in Porto and Lisbon will again be joined by Maria Marica and Andreea Octaviano Cogima on the violin, I will be on the viola and on cello will be joined by Radu Sinaci, who is first cellist at the Radio Chamber Orchestra.

What will you perform?
We have a very diverse program. First of all, we will perform Romanian folk tales by Bela Bartok, quartet formula and Intermezzi by Enescu op. 12, we will perform part I of Verdi's Quartet in Rome and Madrid, to have something specifically Spanish we will perform Turina- La Oracion del torero, Korngold's Sextet, which is very rarely performed and we want to bring it to light, the Sextet of Dvorak, also in Madrid. Last but not least, in Porto and Lisbon we will have the same repertoire as in Rome.

For those who will not be able to physically attend the events, will they also be able to watch the recitals online?
The concert in Rome will be live streamed. We have published on the Facebook page the link where it can be viewed and we invite as many as possible to do so.
Interview by Ioana Țintea
Translated by Denisa Cincă,
University of Bucharest, Faculty of Foreign Languages and Literatures, MTTLC, year I
Corrected by Silvia Petrescu