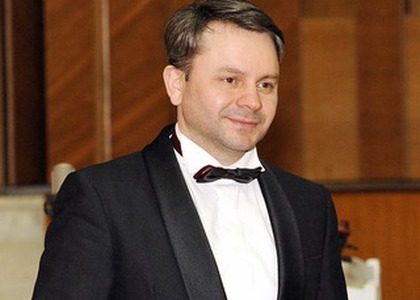 Interview with conductor Mihail Agafița
Monday, 29 May 2023 , ora 10.51

Tomorrow evening, May 26th, conductor Mihail Agafița will conduct Radio National Orchestra and Radio Academic Choir, trained by Ciprian Țuțu in a concert organized under the International Week of New Music. In the program: Testament for baritone, choir and orchestra (p.a.a.) by Nicolae Brânduș, Concerto - fantasy for organ, orchestra and choir (p.a.a.) by Dan Buciu, Hypostases VI for violin, fanfare and percussion (p.a.a.) by Adrian Iorgulescu and Concerto for horn and orchestra (p.a.r.) Krzysztof Penderecki's creation. Violinist Diana Moș, bassist Iustinian Zetea, Eduard Antal at the organ and Erik Sandberg at the french horn will perform as soloist for the night. We find more information from the conductor, in an interview given to Ioana Țintea.

Mr. Mihail Agafita, you are present for the second time on the stage of Sala Radio during the International Week of New Music. What does this festival mean to the Romanian musical life, from your point of view ?
First, I would like to say that it is an honor for me to represent the Republic of Moldova and the National Philharmonic, where I have been a conductor for 19 years at this festival, which is a really important one. A festival in which composers can manifest themselves in full sense so to say, we can interpret works for the first time.

As you said, for the concert on May 26th, you will conduct a program of pieces performed in first audition. What is the biggest responsibility of a conductor when they are in a position of presenting a work for the first time?
The responsability is a great one because other conductors are going to guide themselves after this first interpretation. Because it is somehow presumed that the conductor worked in collaboration with the composers. Two of them are living and still coming to the rehearsals. One of these composers had sadly passed away, but on the other hand, people assume that the conductor has understood the message conveyed by the composer and he is reproducing it as truthful as he can. Therefore, the responsability is indeed a great one.

Can we see a common thread of the works that you will be presenting?
They are totally different and yet extremely interesting. In Dan Buciu's work we have the choir and orchestra, but also a soloist for the harmonium, thus, a very ample piece including many, many elements, all of them interesting. Of course, we are talking about a very elevated language regarding master Adrian Iorgulescu's works. We have an orchestra made out of brass musicians, percussion and piano, and Mrs.Diana Mos is the violin soloist, hence a superior theme, which is, at the same time spirited and inspirational. We have jazz elements and many other fascinating things in Mr.Brânduș's work, also a very different type of work, already one for a baritone, choir and string orchestra, with a lot of percussion, piano and harpsichord. Finally, Penderecki's choir concert is also intriguing, very complicated, but also very beautiful and the soloist is also a very skilled one, if I can say so. I'm inviting everybody at the concert!
Interview by Ioana Țintea
Translated by Georgiana Morozii,
University of Bucharest, Faculty of Foreign Languages and Literatures, MTTLC, year I
Corrected by Silvia Petrescu