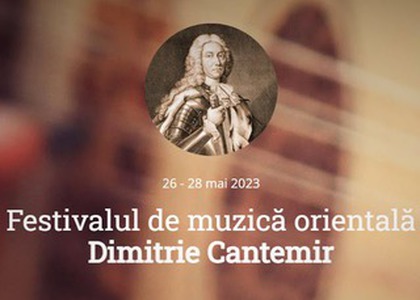 Interview with the scientific secretary Eduard Rusu
Monday, 29 May 2023 , ora 10.53

Between May 26th and May 28th, in Iași, the Oriental Music Festival "Dimitrie Cantemir" will take place marking 300 years since the death of the great Romanian scholar. Eduard Rusu, the project manager, talks about the series of events included in the festival, in a dialogue with Ioana Țintea.

Mr. Eduard Rusu, to begin with, I would like you to tell us about the importance of this festival dedicated to the personality of Dimitrie Cantemir in the Romanian cultural space.
The oriental music festival "Dimitrie Cantemir" organized in Iași, between May 26th-28th, is the occasion of the 300th anniversary of the death of the Romanian gentleman and scholar Dimitrie Cantemir. This festival is organized to mark his memory. We believe that - and this is also the reason why we organized this festival - at least from a musical point of view, the work of Dimitrie Cantemir or the character of Dimitrie Cantemir is not so well-known in Romania. That's why we want to popularize and bring to the public other sides that define Dimitrie Cantemir, marching, on the occasion of this Festival, on the musical side. Dimitrie Cantemir - musician, theorist and composer of Ottoman music.

There will be three days of concerts with oriental music - Ottoman and Persian - composed and collected by Dimitrie Cantemir, performed by ensembles from Romania, Turkey and Iran. Please give us more details about these events.
On May 26th, the "Anton Pann" Early Music Chamber Ensemble from Bucharest will give a concert at 7:00 p.m., in the Great Union Hall (at the former Victoria cinema). On May 27th, in the same hall, from the same time, the Bezmârâ Ensemble from Istanbul will perform and on May 28th, in the "Iustin Moisescu" Hall of the Iași Metropolitan Complex, also from 7:00 p.m., the Neoclassical ensemble from Tehran.

Why did the artists from Turkey and Iran receive the invitation to participate in these events?
Both bands - both the one from Istanbul and the one from Tehran - were excited to participate in this festival, especially since they are coming to the city that was the capital of the country that Cantemir ruled, they are coming to the same city where he is buried Dimitrie Cantemir (at the Three Hierarchs Monastery) and are honored to participate in this festival.

Do you intend to organize other events dedicated to the memory of Dimitrie Cantemir?
Yes. The Metropolis together with its partners is also organizing a symposium dedicated to Dimitrie Cantemir in November of this year, between 9th and 11th, in which researchers from several countries will gather and debate the historical, theological, musical and linguistic or ethnological aspects of Dimitrie Cantemir, based on his work.
Interview by Ioana Țintea
Translated by Cosmin-Ionuț Petriea,
University of Bucharest, Faculty of Foreign Languages and Literatures, MTTLC, year I
Corrected by Silvia Petrescu