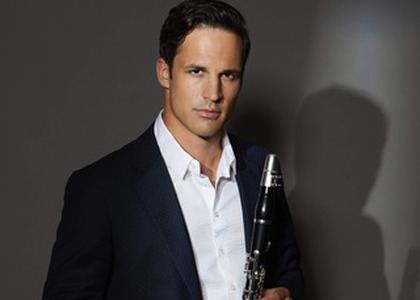 Interview with conductor Andreas Ottensamer
Tuesday, 12 September 2023 , ora 10.06

Wednesday, June 14th, marks the ending of the season for the " Radio Chamber Orchestra" through a concert which will bring famous Andreas Ottensamer, first clarinet player of the Berliner Philharmonie, in the spotlight. The artist will perform both as a soloist as well as a conductor. With this occasion, the Austrian clarinet player discussed with Ioana Țintea after the first rehearsal with the orchestra and he will provide us further details:

How would you describe working with the Radio Chamber Orchestra and what do you expect upon meeting the Romanian audience?
As a conductor, the first rehearsal is crucial, because you can figure out how the collaboration with that musical ensemble would go, how the rehearsal week will go, what is the character of the orchestra. I'm pleased that I've had a very nice first rehearsal, the atmosphere was pleasant as well. We have a quite difficult program, with complicated pieces for the orchestra, but at the same time, very beautiful for the audience. I feel motivated and I can't wait to meet the Romanian audience. It is always exciting to meet a new audience. Each country has a specific type of audience, for example, the one from Ungaria applaudes in unison compared to the one from the Netherlands, which immediately stands up and applauds. Therefore I'm very keen to meet the Romanian audience.

In the concert from Sala Radio you'll be both soloist and conductor. When did you decide to approach a new way of artistic expression, namely conducting?
There's no specific moment that you decide you want to conduct, but rather something that grows over the years. As a child, I was attracted to this side, and when I was a teenager I studied conducting in parallel with the instrument and I always looked beyond my instrument. A couple of years ago, I felt a strong exhortation to walk on this conducting path, to see if it really is a path which I should follow. So, I resumed the study of conducting in Germany, and I've been conducting for one and a half years now. It is a new path for me and I'm very thrilled.

You will perform Songs Without Words by Felix Mendelssohn- for clarinet and orchestra, written by you. Why did you choose this piece?
Because I feel that this type of music is close to my soul. My first instrument was the piano and I interpreted this piece at the piano. I always liked these pieces for their powerful and emotional direction they take. On one hand, they are simple, comparable to Mozart's, but at the same time full of emotion and innocence. I believe they are very compatible with the clarinet, because you can interpret them and the clarinet can reproduce their melodiousness. What will I perform is a very special piece for me, because it's my own arrangement.

In a concert, we know that the invited soloist chooses the work he will perform and the conductor builds his program around that opposite. In your case, being both a conductor and a soloist, what were the criteria on the basis of which you composed the program?
I believe there must always be good communication between the orchestra, the conductor, and the soloist in order to find a balance for the program. It's not easy, but it's an important task, that of outlining a program. For this concert I did not choose a specific theme, but Ravel and Mendelssohn complement each other very well, both works have well-defined melodic elements; at Ravel, the melody from the oboe and from the wind instruments guides the whole work. It is an opposite that makes us think of French court music. And Mendelssohn makes us think of traditional songs or lullabies, and I think they're close to Ravel's. Beethoven's Heroic Symphony is fantastic and I always wanted to conduct it.

I believe that the perspective on a symphony, as the Heroic Symphony of Beethoven, differs when you are a conductor, right?
Yes! Absolutely !

How do you manage to keep the balance between your personal arrangements and the status of prime clarinet player from Berlin- regarded as world's best orchestra?
I'm currently in a sabbatical year, so I don't perform with the orchestra now.
Ioana Țintea
Translated by Georgiana Morozii,
University of Bucharest, Faculty of Foreign Languages and Literatures, MTTLC, year I
Corrected by Silvia Petrescu