> [Archived] Events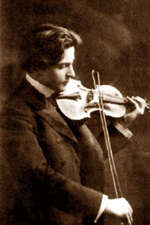 Enescu - 55
Monday, 12 April 2010 , ora 9.57

George Enescu, the most important Romanian composer and one of the most valued interpreters of the first half of the 20th century, past away in Paris on May 4th 1955.
To this already legendary personality that disappeared 55 years ago is dedicated a special programme by Radio Romania Music on May 4th. For four hours (17-21), not only the opuses that marked George Enescu's work will be heard one after another, but also testimonies aimed to outline Enescu's portrait, as he was and as he is seen today by our contemporaries. In this regard, Radio Romania Music brings to light from the Golden Sound Archive of the Romanian Radio Broadcasting, Enescu's voice in dialogue with Bernard Gavoty, a famous interview that became a well-received book, as well as other testimonies of other personalities evoking Enescu - Yehudi Menuhin, Nadia Boulanger, Zoltan Kodaly, Mihail Jora, George Georgescu.
It is also interesting to observe the contemporary musicians and audience' s perception of Enescu and that is why the special programme 'Enescu-55' will include interviews with Romanian interpreters who have made a profession of faith in promoting Enescu's music: Sherban Lupu, Remus Azoiței, Luiza Borac and the members of the Enescu Quartet, and also with foreign interpreters such as Lawrence Foster, Ivry Gitlis and Uto Ughi.
We shall find out what the Romanians on the street know about Enescu, from a poll conducted by Radio Romania Music; the most interesting or unexpected reactions will be heard during this special programme.
For those who cannot afford the time to listen to the 'Enescu-55' programme when it is broadcast, Radio Romania Music offers an alternative solution: the programme will be online archived at www.romania-muzical.ro. Radio Romania Music website also welcomes its visitors with other surprises related to the Enescu commemorative moment: here they can find two films in which the manager of the National Museum 'George Enescu' of Bucharest and the custodian of the 'George Enescu' Memorial House of Sinaia present the places where the most important Romanian composer lived and worked.
Radio Romania Music is the only classic, jazz&more Romanian station in Romania. It can be picked up on FM (97,6 and 104,8), by satellite and
live online (www.romania-muzical.ro).
Cristina Comandașu
Translated by Andrea Niculae, Andreea Velicu
MA Students, MTTLC, Bucharest University