> [Archived] Events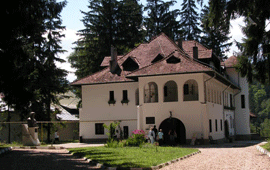 'The Lesson of the Little Music Lover' at Sinaia
Friday, 16 April 2010 , ora 10.01

Friday April 16th 2010 starting with 12.00 "The Lesson of the Little Music Lover", the most congenial music lesson with two elfin fairies and a puppet, will be take place at George Enescu's residence in Sinaia - Enescu's Museum in Cumpatu Quartier.
The children (and also their parents or grandparents) will have the chance to familiarize with the musical story "Peter and the Wolf" by Serghei Prokofiev. The children will have the chance to meet and have pictures taken with Arietta (Simona Tănascu) and Pocchettina (Maria Monica Bojin) - Radio Romania Music producers, and also with Tony Tinytone puppet, handled by actress Alina Teianu from the "Țăndărică" Theatre in Bucharest.
"The Lesson of the Little Music Lover" is a Radio Romania Music project, that was broadcasted continuously in the last 8 years, as being part of the programmes of the only Romanian classical, jazz & more channel. In 2010, Radio Romania Music brings "The Lesson of the Little Music Lover" into all three George Enescu's residences in Romania : after March 19th in Bucharest and April 16th in Sinaia, will follow on June 4th a lesson show at The Enescu Residence in Tescani.
"The Lesson of the Little Music Lover" is a radio show that takes place twice a month, being broadcasted on Saturday starting with 11.00, as a children's theatre play spiced with a lot of music. The production is written and directed by Celina Petrescu. The next "Lesson of the Little Music Lover" at Radio Romania Music will be broadcasted on April 17th.
For those unable to listen on the radio "The Lesson of the Little Melomaniac" the solution is the the website of the show (www.micul-meloman.ro), where apart from the show's archive, the visitors can find various information and photos from the earlier editions of the shows that took place on each last Friday of the month at the Humanitas Kretzulescu Bookshop in Bucharest. As the latest news, the show that will take place on April 16th in Sinaia will be filmed and posted on the show's internet site.
The entrance at "The Lesson of the Little Music Lover" is free of charge.
Cristina Comandașu
Translated by Monica Cristina Tone, Andreea Velicu
MA Students, MTTLC, Bucharest University