> [Archived] Events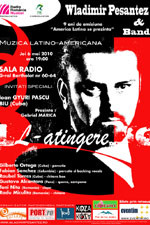 L'atingere at the Radio Concert Hall
Friday, 23 April 2010 , ora 10.13

For nine years, Wladimir Pesantez from Ecuador has been the host of the show Latin America presents itself broadcasted on Radio Romania Music. On this occasion, Wladimir Pesantez&Band are to perform a special concert at the Radio Concert Hall on Tuesday, May 6th starting from 19.00.
Wladimir Pesantez has made more than 300 shows on Radio Romania Music in which he has presented works of the genuine, not commercially influenced Latin-American repertoire. The folklore, the new Latin-American song, as well as works which are part of the Latin-American cult repertoire are presented in the show which is now broadcasted on Sunday, starting from 12.00.
This sort of repertoire is also included in the concert L'atingere scheduled for May 6th 2010, works which can be rarely listened to in Romania.
Wladimir Pesantez's special guest are famous Ioan Gyuri Pascu and singer Biu Marquetti from Cuba, an ex-member of Mandinga. The concert will be hosted by Gabriel Marica, the producer of Latin America presents itself, the editor-in-chief of the Musical Directory of Radio Romania Music.
The concert is to be broadcast live audio-video on www.romania-muzical.ro. Starting from April 28th, the visitors of the site can fill in a form in order to win a free ticket for the L'atingere Concert. The form will be available online starting from May 4th 2010.
Producer: Radio Romania Music. Co producer: TVR Cultural. Organiser: Euterpe Art Centre.
Tickets are available on eventim.ro, at the Humanitas and Cărturești book stores, at Germanos and Vodafone, as well as at the Radio Concert Hall box office.
Wladimir Pesántez was born in Quito (Ecuador) in 1967. His present preoccupations include theatre, music and poetry. He has acted and staged different performances in collaboration with independent theatre companies. He is a singer-songwriter well-appreciated in his country, as well as abroad and has held numerous recitals of music and poetry both in Romania and beyond its borders. He studied singing at the Luxembourg Conservatory and also graduated from the Faculty of Composition, Musicology and Music Pedagogy of the Bucharest National University of Music.
On May 6th, Wladimir Pesantez is to perform alongside six more musicians.
Gustavo Alcantara graduated from the Music School, Valderrama Composition in Trujillo, Peru.
He plays different instruments such as piano, guitar, bass guitar, saxophone, Latino percussion instruments - timbales, bongos and congas as well as quena and zampona.
He has performed with different famous bands, both in Peru and Chile and has collaborated at the recording of eight CDs.
He has been living in Romania from 2004 and is now working with the Cuban singer Biu Marquetti.
Raubel Torres Gonzalez was born in Havana, Cuba. In 1983 he started studying the bass guitar. He has performed alongside many bands from Cuba as well as Europe (Belgium, Netherlands, Denmark, Sweden and Italy).
He now lives in Romania and is a member of the Argentinean band of Analia Selis.
Gilberto Acen Ortega Torres was born in Havana, Cuba. He started studying percussion very early and has performed with many Cuban popular music orchestras. He has participated in many festivals and competitions in Europe, Canada, Japan, Mexico, Chile, Jamaica and Santa Lucia.
He has been living in Romania since 2006 and has participated in many national music projects.
Luis Fabian Sanchez Rincon was born in Bogota, Columbia and graduated from the Circo Ciudad Circus Arts School. He is a singer, an actor and builds traditional percussion instruments. He has been artistic director and producer in Columbia and Ecuador.
He has been living in Romania for a year and has participated in different music projects as backing vocal, namely Wilmark y los Cubanisimos, Biu Marquetti & Band, Macondo, Analia Selis & Latino-America.
Toni Niță was born in Craiova and is enrolled in an MA programme at the Bucharest National University of Music studying composition.
He has been awarded numerous times at both national and international piano and music theory competitions, as well as at the Music National Competition in music theory.
He was a member of different jazz and rock bands and has collaborated with many recording studios.
Since 2008 he has worked at the Wladimir Pesantez & Band project.
Radu Miculiță was born in Oradea and has got an MA at the Bucharest National University of Music in classic guitar. He also graduated from the jazz courses of Professor Mircea Tiberian. He also studies flamenco music.
He has received numerous awards at different national and international performing competitions as well as at the 2001 Sinaia International Festival.
He has collaborated with famous artists such as Marius Mihalache and flamenco dancer Rosa Olympia Estrella.
Alongside Wladimir Pesantez, he is founder of the Flamante band.
Cristina Comandașu
Translated by Georgiana Mîndru, Andreea Velicu
MA students, MTTLC, Bucharest University