> [Archived] Events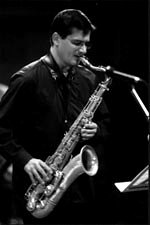 Romanian Jazz for 17 Million Europeans
Thursday, 12 May 2011 , ora 9.14

On Monday, May 16th 2011 starting 20:00, at the Izvor Hall within the Bulandra Theatre, Radio Romania Music is to present Twin Thoughts, a jazz performance by saxophone player Cristian Soleanu and the Dumi Trio. The project is included in the European Broadcasting Union as part of the Euroradio Jazz Season.
The program includes works written by the performers - contemporary jazz that can be easily perceived by all music lovers. The event is a veritable landmark for jazz lovers due to the musicians' virtuosity as well as the special event it is dedicated to. The performance will be presented by Daniela Nicolae, the host of the Jazz Collection programme on Radio Romania Music who is herself a jazz pianist and one of the most popular specialized journalists.
Cristian Soleanu is today's best jazz saxophone player resident in Romania and is member of the Big Band Radio as well as professor at the National University of Music Bucharest. He has collaborated with distinguished Romanian and international jazz musicians and has been part of various projects, concerts, tours in Romania and abroad, recordings, and film scores.
The Dumi Trio is an ensemble founded five years ago, very active in the Netherlands. They have substantially performed in concerts and festivals in Italy, the United States, Germany, Austria, and Switzerland. Guitar player George Dumitriu (29) is attending an MA programme at the Amsterdam Conservatory and has an impressive career - CD releases, concerts - and is also member of the European Jazz Academy Big-Band, an ensemble led by the late jazzman Peter Herbolzheimer. George Dumitriu will be performing alongside bass Mattia Magatelli (32) and drummer Kristijan Krajncan (25), important names on the international jazz stage.
The European Broadcasting Union (EBU) brings together the European public broadcasters and collaborates with associated members of the American, Asian and Australian broadcasting companies.
Euroradio is the department for classical and jazz music and has 17 million listeners every day. Radio Romania Music is to broadcast the recording in a concert-programme on May 22nd, starting 18:10 followed by the European broadcast of the event itself on May 27th 2011. Including Romania in the Euroradio Jazz Season is of course a perfect opportunity to promote today's Romanian musical values.
Tickets are available at the box office of the Bulandra Theatre and online at www.bulandra.ro.
Co-organizer: the Radio Romania Foundation, the County Cultural Centre for Promotion of Traditional Culture Ilfov.
Sponsors: Mood Media, Amiras.
Media partners: Șapte seri, Observator cultural, Suplimentul de cultură, Zeppelin, Agerpres, Anzisoft, Flacăra, Rebus, port.ro, metropotam.ro.
Contact: Cristina Comandașu - deputy editor-in-chief
0742123482; cristina.comandasu@radioromania.ro.

Translated by Georgiana Mîndru
MTTLC, Bucharest University