> [Archived] Events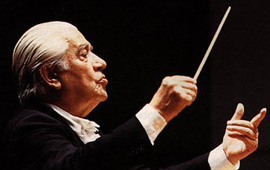 2011-2012 Anniversary Calendar
Friday, 23 December 2011 , ora 12.52

When the crossover between years is near, all of us probably feel the need to look back at what made the record of the past twelve months' history, but also to look forward to what is announced, to what future will bring. The review for what has past and the outline of the future perspective...
The crossover? The most obvious moment to register traditions.
And in time, Radio Romania Music has already settled the tradition of Anniversary Calendars.
The joy to peruse an album of some of the greatest names that have separated themselves (and have come to the attention of the artistic life of the whole world) in 2011 into a category of personalities we pay tribute to, falls on me, together with you who listen to us, giving us your time and your every day concerns. As chance would have it, this year we have in our gallery some brilliant portraits part of the history of music, which, thus, marks figures that point out the fulfilling of a whole number of centuries (or, in some cases, adding up halves or quarters of centuries) which underline the essential dates of the named biographies. Even if it could have been richer in the number of names included, the 2011 Anniversary Calendar tried to be meaningful in the context of the programme for this period, diversified in styles and musical genres, attractive (we hope) for the sonorous ambiance of this time of the afternoon, which is intended for it from Monday to Friday, next week being dedicated, in the same hourly configuration, to year 2012.
Moreover, Monday, the 2nd of Janury, after the lunch Newscast and until 16.00, a special edition will try to mark a Unesco Global Anniversary from the world of music: the Centennial of the Birth of Maestro SERGIU CELIBIDACHE.
Music pages diverse in stylistical plan conducted at the desk of different orchestras, in the history of which this personality's name whote pages of legends but also... some moments with the Maestro's voice talking about... but it is better if you listen to him! His words and music outline a world of artistic morality...
Anca Ioana Andriescu
Translated by Anca Pavel
MTTLC, Bucharest Universiy