> [Archived] Events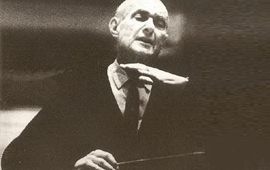 Concert in Memory of George Georgescu at the Radio Hall
Monday, 22 October 2012 , ora 8.16

In 1918 he conducted the Berlin Philharmonic Orchestra, and in 1926 the New York Philharmonic Orchestra, at the same time being one of the most important and long-lasting directors of the Bucharest Philharmonic - we are talking about conductor
George Georgescu
.
On Friday, 26th October, starting at 7 PM, at the Radio Hall, a great Romanian conductor of our time, Cristian Mandeal, alongside violinist Mihaela Martin, acclaimed by the audiences of numerous prestigious concert halls around the world, will pay homage to George Georgescu, one of the greatest musicians ever born in Romania, accompanied by the National Radio Orchestra.
The concert is part of the series of events organised in Bucharest to celebrate the conductor's 125th birthday, and, on this occasion, during the concert break, the Radio Hall Publishing House will release the latest CD in the series called George Georgescu's Art, this time dedicated to 20th century Romanian music. The album consists of a selection of historical recordings belonging to the archives of the Romanian Radio, made up by composer and musicologist Pascal Bentoiu, and offers the audience landmark performances in the work of the most representative Romanian musicians: Mihail Jora, Theodor Rogalski, Paul Constantinescu, Constantin Silvestri, and George Enescu. The great conductor's personality, his constant interest in Romanian music, as well as the uniqueness of the recordings offered to music lovers by the latest Radio Hall Publishing House CD will be evoked by professors Viorel Cosma and Valentina Sandu-Dediu.
Conductor, academician, and director of the Bucharest Philharmonic, George Georgescu (1887-1964) was one of the greatest representatives of the classical conducting style specific to the German school, who perfected his musical education at the Berlin Hochschule für Musik, where he studied under the distinguished cello teacher Hugo Becker. In 1916, as a result of an accident, he abandoned his career as a cellist and took up conducting. In 1918, he achieved remarkable success conducting the prestigious Berlin Philharmonic Orchestra, and, once back to Romania, he took over the young correspondent orchestra in Bucharest. Nevertheless, his career continued both nationally and internationally, as he was guest conductor of famous symphony orchestras. Beginning with 1926, he also went on tours in the United States, leading the New York Philharmonic Orchestra or alongside the Concerts Colonne orchestra.
After World War II, George Georgescu is accused of having been a collaborator on account of his artistic activity within the Reich, and is dismissed from his position as director of the Bucharest Philharmonic until 1947, when, following George Enescu's intervention, he gets back in harness, conducting the National Radio Orchestra. In 1956, George Georgescu returns as director of the Philharmonic, and, until his death in 1964, goes on more tours abroad, ceaselessly working on improving the performance of the orchestra under his direction.
The evening's programme will include: Johannes Brahms - Variations on a Theme by Haydn, Op. 56a - a superb work combining Haydn's classic style with the romantic passion specific to Brahms's time, Wolfgang Amadeus Mozart - Concerto No. 5 in A Major for Violin and Orchestra, and Max Reger - Variations and Fugue on a theme by Mozart.



Translated by Cristina Firoiu
MTTLC graduate, Bucharest University