> [Archived] Events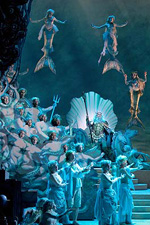 New Production Broadcast Live from Metropolitan Opera House in New York
Thursday, 19 January 2012 , ora 10.24

A new work put on by the world-famous Metropolitan Opera in New York City will be broadcast live by Radio Romania Music on Sunday, January 21st. The Enchanted Island is an event-production, considering that the general manager of the Met came up with the idea of such an opera, with a storyline inspired by Shakespeare's The Tempest and A Midsummer Night's Dream and scores of baroque music - arias and ensembles by Handel, Vivaldi, Rameau, Leclair.
The staging and the all-star cast make The Enchanted Island a sumptuous production. The opera received its premiere on December 31st, 2011.
The cast of the Met production broadcast live by Radio Romania Music includes some of the most famous contemporary singers: Plácido Domingo, Danielle de Niese and Luca Pisaroni. The conductor and the man who has chosen the pieces for this musical extravaganza is a renowned expert of baroque music, the famous William Christie.
The performance will be broadcast within the programme An evening at the Opera and will be commentated while delivered by Luminița Arvunescu and music critic Costin Popa.
The opera will be broadcast live by Radio Romania Cultural as well.


Translated by Raluca Mizdrea
MTTLC, Bucharest University