> [Archived] Events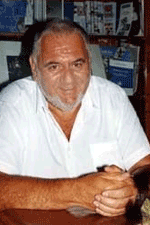 Ludovic Spiess 75
Wednesday, 8 May 2013 , ora 9.03

An anniversary is a chance to reminisce achievements, happy moments, successful performances… A chance to reveal lesser-known instances in the 'movie' of years gone by, in the journey to become the 'portrait' that we know now. It is a chance to indulge in nostalgia when thinking of… tempi passati? Perhaps, as well as an overview of the meanders of a life, as they strung together over the years.
And still there are anniversaries that make us sad, shrouding us with the regret to only speak of their 'heroes' in the past tense, of those who left us too early, to go to other realms, those of memories…
Today is such a moment, and I am having a hard time changing the title to… evocation, because the Hero of this performance remains a special character in the memory of people of my generation and - certainly - in that of others. I grew up with the image of a legend of the international lyrical world, who literally shone on the posters of some of the most famous opera theatres in the world. To those who knew him - as an interlocutor - he was an excellent dialogue partner: natural, self-assured, as well as disarmingly honest when expressing his opinions, with the intelligence that filtered the sum of his experiences, wisely finding countless meanings in them, which he knew how to share with others. To those who have heard him sing, act, perform, he remains a model: a model of passion for what he did, of grace which sometimes turned slight imperfections of his voice into dramatic tones, perfectly justified by the expressive evolution of the character he played, a model of professionalism, of… the art of interpretive living.
This performance is dedicated to Ludovic Spiess, who would have been 75 years old today, with the regret to only be speaking… about this maestro. He offered us plenty of interviews, and he was often a guest of live shows. Sorina Goia kept such a document: The Admirer's Call of 2nd May, 1999, with tenor Ludovic Spiess live in studio. I chose a few excerpts of the maestro's voice from that dialogue of almost 90 minutes, and we can hear him telling us about important moments of his biography or speaking of the great personalities by whose side he sang on some of the most praised lyrical theatres in the world.
Anca Ioana Andriescu
Translated by Irina Borțoi and Elena Daniela Radu
MTTLC, Bucharest University