> [Archived] Events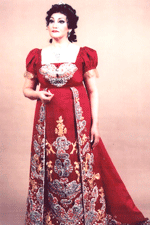 Special Sessions of 'An Evening at the Opera' - Cecilia Bartoli and Maria Slătinaru Nistor as Leading Opera Singers
Monday, 13 May 2013 , ora 14.44

The first extraordinary audition of the latest CD of the famous mezzo-soprano Cecilia Bartoli and the anniversary of soprano Maria Slătinaru Nistor, one of the most important voices to come out of Romania during the 20
th
century: two special sessions of '
An Evening at the Opera'
hosted by Luminița Arvunescu on 18
th
and 21
st
May respectively.

'Norma' with Cecilia Bartoli
As a preview before the official launch which is scheduled on 20thMay, the latest album by mezzo-soprano Cecilia Bartoli will be broadcast on Radio Romania Music: the opera "Norma" by Vincenzo Bellini, an album which proposes to recreate the original sound of the work as it was premiered in 1831. Supporting the renowned Italian singer, one of the most successful commercially and acclaimed personalities of today's lyrical theatre, is an assembly of soloists which include Romanian mezzo-soprano Liliana Nikiteanu, currently residing in Zürich.
The album can be auditioned in its entirety on Radio Romania Music (and it will also be rebroadcast by Radio Romania Culture) on Saturday, 18th May, starting at 19:00, and followed by an interview with Cecilia Bartoli conducted by Luminița Arvunescu in 1996.
The album will also be available in Romania, in specialised record stores or website catalogues.
The recorded version on the disc will be put on stage in Salzburg, on 17thand 19thMay, 2013, as Cecilia Bartoli is also the director of the Spring Festival in Salzburg.

Maria Slătinaru Nistor - 75
On 25thMay, one of the most important Romanian voices of the 20thcentury, soprano Maria Slătinaru Nistor, will celebrate her seventy-fifth birthday, an important occasion for another special edition of 'An Evening at the Opera' . On Tuesday, 21stMay, starting at 19:30, Maria Slătinaru Nistor will engage in a dialogue with Luminița Arvunescu - this event will be broadcast live on Radio Romania Music, and in audio-video format on www.romania-muzical.ro.
The transmission will be rebroadcast Saturday, 25thMay, 2013, at 19:00, on the very day of the soprano's anniversary.
Maria Slătinaru Nistor was for two decades, starting in 1972, principal soloist of the National Opera in Bucharest. She also sang on the world's most prestigious stages, in Europe and in the United States of America. Her iconic roles remain those from the operas Toscaby Giacomo Puccini and Fidelioby Ludwig van Beethoven. Since 1990, she has been teaching canto at the National University of Music in Bucharest.

Translated by Serban Dudau and Elena Daniela Radu
MTTLC, Bucharest University