> [Archived] Events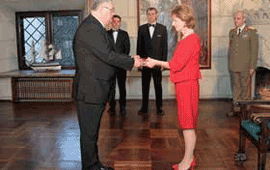 Radio Romania Was Awarded the 'Nihil Sine Deo' Decoration
Monday, 13 May 2013 , ora 11.11

Monarchy Day - 10
th
May - was celebrated in the 'Mihail Jora' studio in Bucharest on Saturday evening, with an extraordinary concert of the Radio National Orchestra, conducted by Christian Badea. The programme - opened by the Royal Anthem composed by Eduard Hübsch, included works by Johannes Brahms and Antonin Dvorak. Soloists were Mihaela Martin (violin) and Frans Helmerson (cello). The concert was broadcast live by Radio Romania Music.
And on the evening of 12th May, 2013, Radio Romania was awarded the 'Nihil Sine Deo' Royal Decoration by the Royal House of Romania. The ceremony took place at the Elisabeta Palace in Bucharest and the decoration was offered by Her Royal Highness, Crown Princess Margareta of Romania to Ovidiu Miculescu, the president-general manager of the Romanian Radio Broadcasting Company.
The 'Nihil Sine Deo' Royal Decoration - established in 2009 by order of His Majesty King Michael I and limited to 200 recipients - is awarded for high level performance that makes an undeniable contribution to the development of social, scientific, educational, cultural, spiritual, economic, political or military fields. In this jubilee year - in 2013 Radio Romania and the National Radio Orchestra celebrate their 85th anniversary - the national radio broadcasting company received this high distinction, whose name contains the very motto of our Royal Family, for contributions to the Romanian people all over the world.

Translated by Irina Borțoi and Elena Daniela Radu
MTTLC, Bucharest University