> [Archived] Events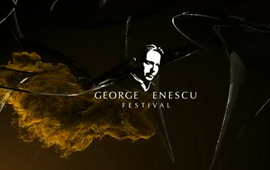 The 'George Enescu' Festival to be Broadcast Live at the Grand Cinema Digiplex
Monday, 29 April 2013 , ora 8.42

The 'George Enescu' Festival and Grand Cinema Digiplex have signed a partnership allowing the most important concerts of this year's edition to be broadcast live in the cinema halls in the Băneasa Shopping City for music lovers who have not found tickets for the performances.
'For the first time in the history of the "George Enescu" Festival, lovers of classical music can see the concerts of this year's edition in cinema halls, broadcast live from the Athenaeum. Seeing that the tickets for most concerts have already been sold out, we wanted to bring the Festival to a larger audience, who could have access to the events other than by being in the concert halls,' Oana Marinescu, communications manager of the 'George Enescu' Festival declared.
Half of the 40,000 tickets for the 'George Enescu' International Festival made available on 15th April by the Eventim network were sold out in record time - two hours - whereas almost all festival passes were sold in two hours since they were made available, on 15th January, 2012. Now more than 80% of the seats in the concert halls are taken.
For the 'George Enescu' Festival, tickets for live broadcasts are available online - for sale and for booking - as well as the ticket booths of the Grand Cinema Digiplex, between 29th April - 23rd June. They must be claimed between 23rd-29th June, otherwise, starting 1st July, bookings will be cancelled and unclaimed tickets will be resold. Individual tickets will be available for 45 lei (standard seat) and 50 lei (premium seat). The festival begins on 1st September and it will take place during the entire month.
Grand Cinema Digiplex is already renowned for its exclusive live broadcasts of performances on important stages of the world - the Bolshoi Theatre, Royal Opera House, the Paris Opera or Opera Australia. We are proud to be able to broadcast the "George Enescu" International Festival live, adding Romania to the list of countries that broadcasts great classical concerts live in cinema halls.' - John Younis, Entertainment Business Unit General Manager, declared.
The 'George Enescu' Festival is the most important international music event that takes place in Romania, with a tradition of over 50 years. The first edition was organised in 1958, three years after the great George Enescu passed away, and throughout time it has succeeded in bringing important names of classical music across the world to stages in Romania. The continued tradition of organising the 'George Enescu' Festival every three years, and then every two years, has turned this event into one of the most renowned classical music festivals in the world. Grand Cinema Digiplex is a premium cinema complex, equipped with latest generation technology in sound and projection.

Translated by Irina Borțoi and Elena Daniela Radu
MTTLC, The University of Bucharest