> [Archived] Events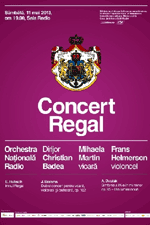 A Royal Concert Worthy of A Royal Anniversary
Wednesday, 8 May 2013 , ora 9.05

Beyond any political significance, the idea of royalty implies the association with notions such as elegance, sophistication and value. Thus, a holiday such as Royalty Day (10
th
April) could not be celebrated in any other way than with a Royal Concert in the presence of their Royal Highnesses, Princess Margaret and Prince Radu.
Three great international musicians who have travelled all over the world and performed in some of the most important concert halls are invited to the Radio Hall for this event: the Romanian conductor Christian Badea, the violonist Mihaela Martin and the Swedish cellist Frans Helmerson.
Traditionally, the evening will be opened by the Royal Anthem by Eduard Hübsch and will continue with Double Concerto for Violin, Cello and Orchestra, the last orchestral piece by Brahms, especially exciting because of the presence of the two soloists accompanying the musical ensemble. The second part of the event will enchant the audience by performing one of the most famous symphonies: The Symphony No. 9 in E minor- From The New World, signed by the Czech composer Antonin Dvoűák when he run The New York Conservatory of Music. The musical piece was a triumphal success since its first audition at Carnegie Hall in New York, in 1893.
During the intermission of this wonderful event celebrated on 11th May, there will be an album release (a book and two CDs), especially made for His Majesty, King Michael: At your service at all times… (In slujba voastra in toate timpurile…). The album includes a collection of radio messages and a series of interviews conducted between 1989 and 2011. The first edition of the album was written in Romanian. The second one, however, is a revised and enlarged edition and is translated into English. The album is released under the signature Casa Radio Publishing House and the interviews were realized by Mariana Conovici and Denise Theodoru. The translation was signed by Alistair Blyth.
On Sunday, 12th May, another important event for Radio Romania will take place. The Royal House will grant this institution the order Nihil Sine Deo (Life is Nothing Without God). The President and General Manager of the Romanian Radio Broadcasting Company will be present at the ceremony, held at the Elisabeta Palace, to receive the distinction.
The royal distinction Nihil Sine Deo, established in 2009 by order of His Majesty King Michael I and limited to 200 members, is granted for high-level performance of bringing an important contribution to the social, scientific, educational, cultural, spiritual, economic, political and military area.
In 2013, we celebrate 85 years since Radio Romania was founded and The National Radio Orchestra was born. The public radio will receive the high decoration, whose name is the motto of the Royal Family, for its services for the Romanian public all over the world.

For further information on the 2012-2013 season of the Radio Orchestra and Choir, please refer to the following website: orchestreradio.roor orchestreradio.com.

Translated by Morosanu Petronela and Elena Daniela Radu
MTTLC, The University of Bucharest