> [Archived] Events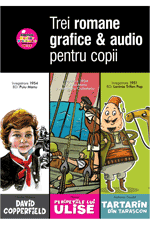 Casa Radio Publishing House Launches its Latest Graphic Audio Books at Bookfest 2013
Tuesday, 28 May 2013 , ora 9.28

On 1
st
June,
Casa Radio Publishing House
celebrates the youngest readers and listeners by inviting them to learn about the newest editions of two of their beloved audio and picture book collections dedicated to them, namely
'Radio-Prichindel'
and
'Noapte buna, copii!'
On Friday, 31st May, at 11:00 o'clock, children, parents and grandparents are expected at The Mice Club, within the Book Fair Bookfest, held at Romexpo, to listen to famous fairy tales from all over the world.
We will be taken through Wonderland by the iconic voice of the Radio-Prichindel collection itself, the one and only promoter of the Romanian Theatre for Children, the great actress Alexandrina Halic who will greet at The Mice Club those eager to meet Ulysses, David Copperfield or Tartarin of Tarascon. These characters have not only come to life by the magic of radio drama, but they have also become comic book heroes in the latest editions of the Radio-Prichindel collection, our very own innovative concept of graphic audio novel.
We have the pleasure of offering you remastered historic recordings of some great radio dramas, ingenious versions of some unforgettable books that have fascinated generations of listeners. Now, these radio dramas have been adapted as comic books, in the inspired vision of some distinguished artists, every one of them belonging to different generations.
1. Homer, Odyssey (recorded in 1954, with: George Vraca, Dina and Tanti Cocea, Gh. Ciprian…; BD: Puiu Manu and Alexandru Ciubotariu);
2. Charles Dickens, David Copperfield (recorded in 1954, with: Silvia Chicos, Costache Antoniu, Dinu Ianculescu…; BD: Puiu Manu);
3. Alphonse Daudet, Tartarin of Tarascon (recorded in 1951, with: N. Gardescu, Ion Lucian, Radu Beligan, N. Stroe, Gr. Vasiliu-Birlic…; BD: Lavinia Trifan Pop). This work has been nominated for 'The best audiobook project' at the Romanian Book Industry Awards.
Moreover, the legendary show 'Noapte buna, copii!' can be found again in the audio book collection of the same name, which has now reached to volumes 11 and 12.
Our suggestion, under the title of 'Mari scriitori povestind celor mici' is to listen to, according to the established pattern '7 povești pentru 7 zile,' everlasting literature pages for children, signed by Charles Perrault, The Grimm Brothers, H.C. Andersen, Rudyard Kipling and others, and voiced by unforgettable actors such as Silvia Chicos, Octavian Cotescu, Mircea Albulescu, Fory Etterle, Stefan Mihailescu-Braila and many others.
The illustrator of the collection 'Noapte buna, copii!' is Alexandru Ciubotariu a.k.a. Ciubi, a tireless militant for the Romanian BD and manager of the CD and BD series of the Radio-Prichindel collection. He promises lots of multimedia surprises which will be revealed on Friday at The Mice Club.
We will be joined by fourth and fifth graders from The 'Hermann Oberth' School, who have also prepared surprises for us, something to do with David Copperfield from what we have heard so far. They will be accompanied by writer Ioana Nicolaie, who will tell us all about the adventures of Arik.
Therefore, we will tell stories, draw, play, we will give awards, have guests and mainly enjoy books, our best friends.
And for the long days of summer, make sure to stop at Casa Radio Publishing House's stand (C2 Pavilion, B09 stand) in order to meet Baron Münchhausen, The Invisible Man, Niels Holgersson, Tom Sawyer, Huckleberry Finn and others. These characters are portrayed by The Golden Library's jewels in compelling radio drama shows which gathered so much talent that they now seem timeless.

Translated by Morosanu Petronela and Elena Daniela Radu
MTTLC, The University of Bucharest